Sorry about there not being a column last week. I heard from a few people asking where the column was. It's a story you really don't want to hear. Anyway, we are back this week.
There are mixed results locally in the 2023 playdowns.
Timmins managed a fine showing in NOHA Tournament of Champions play, with a couple of golds at the AA level.
The Majors, despite a valiant effort, were eliminated in round-robin play at the AAA level in the Soo.
The RMSS boys' hockey team put up a competitive fight at the AA/A OFSAA championships, but were also eliminated in round-robin play.
The Rock are up 2-1 in their first-round series, as they look to parlay a stellar season into a league championship.
There's still lots of playoff action to be settled with PMHA and TMHA both hosting OHF championships soon.
A lot of these playdowns (actually most) are a tournament format. As March Madness has shown us, the favourites are often not around when the last dance arrives. You just never know what can happen in a condensed format, where one loss can send you packing. But tourney-styled playdowns never lack excitement.
I still painfully remember my first year with the Majors where we were knocked out by a controversial penalty shot. That was the last year of the NOHA tournament format before the formation of the GNML, where they adopted a series-based playoff format.
While the tournament format provides an effective way to limit costs, travel and time, it can be unforgiving for a bad game, call or decision. Bounce backs are tough under that format.
I remember my first year of juvenile with the Kinsmen, where we lost game one of the final series by double digits. We managed to get a chance to gather ourselves up and prevail with a game seven win to nab the league championship. We might not have had that chance in a knock-out tournament format.
After the last two Leaf playoff failures, we were forced to listen to a vast number of prognosticators spew about how they needed to trade Mitch Marner. We have not had to listen to that nonsense this season thankfully. I ain't no Leaf fan, but without Marner the Leafs would be nowhere near their current standing. The de facto on-ice leader of this club has carried the team for a number of games this year. A veritable Swiss Army knife on skates, Marner and his versatility has been a treat for any fan to appreciate. If the Leafs fail to get out of the second round, who will the prognosticators want traded now? Might be everybody but Marner. You never know.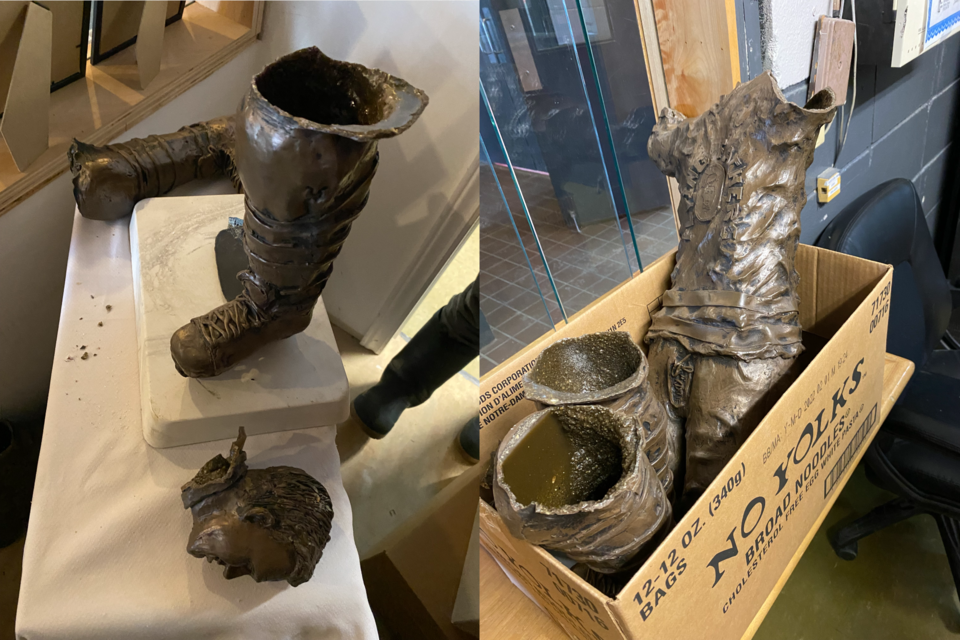 We're not sure what happened, but Eddie, Wayne and I were shocked to discover the Father Les hockey statue at the McIntyre Community Centre in pieces last week. Whether it was due to undue vibration or an accident, the small statue has some major damage. We're not looking to place blame as we know it was either a simple accident or combination of unavoidable factors responsible for the damage. Things happen. But we are hoping we can somehow make or have someone else make repairs to the iconic piece. The statue appears to be made of resin or some type of composite. We dry fit a number of the pieces back in place and it appears to us that it could be repaired. After a journey from Cobalt, the piece was donated by the family (along with other items and some pics) for a display by the Sports Hall of Fame.
I have some calls to make this week in hopes of finding out from an expert what options we may have. We really can't afford to have another valued piece of local history be lost.
But I know that with some help we'll find a way to get the Father Les likeness repaired and back to its rightful place at the Mac.
Every morning for the last few weeks a certain ritual has taken place here at our house. A quick click onto the Top Peaks website to vote for Mount Jamieson. Now, like a great deal of people in the area, we anxiously await the final results to see if the resort can cash in big for its future development plans.The ski hill is a well-deserved potential recipient of first prize as a mainstay of local recreation and tourism.
RELATED: Timmins ski hill makes top 3 in race to win $100K
I'm so happy to see that the Majors have committed to reintroduce a U15 program for next season. A AAA Bantam program has been absent from the area for a few seasons and personally I hope this new endeavour leads to a refreshed and vibrant program. The Majors should benefit from a co-existing program to provide a feeder and development situation. Our former AAA program at that level provided a league championship and a number of players who advanced to Major Junior, Junior A, etc. It will also make the jump from that level to the Majors a little easier and smoother. The experience players get from facing their peers playing the highest level in their age group, can only be a positive.The jump from U15 to U18 was already big enough, but this set up can make the transition a little smaller. With a common philosophy, common program, interaction between the two clubs and a shared vision, an opportunity exists for a renewed success. There will be detractors and some growing pains, but that's totally understandable and should not be a deterrent.
A strong Majors program is vital in regards to local development. A AAA program at Bantam to supplement strong AA and down current programs can be a win-win situation for all.
But the bottom line still remains. We must continue to grow all programs at all levels. AAA or D, kids deserve top notch programs to learn and have fun, along with having a competitive atmosphere.
Oh and by the way, I'm cognisant of the fact I still use terms like bantam, pee wee, etc.
After a lifetime in the game, I'm not going to change I guess.
Later skater.
Have a tip or comment for Mully? Send us an email.