When you think of a culinary destination, Temiskaming in northeastern Ontario is probably not at the top of your list.
The region's better known as a playground for those who enjoy the rugged outdoors. But Temiskaming is much more than fishing, hunting, and hiking.
Communities around Lake Temiskaming have created a culinary experience that tourists will appreciate. It's called the Temiskaming Tour Route, which promotes the area's Francophone, Anglophone, and Algonquin cultures. The Lake Tour passport will take you to more than a dozen participating diners, bistros, cafes, country restaurants and microbreweries on both sides of the Ontario/Quebec border.
James Franks, Economic Development Officer for Temiskaming Shores said, "Twenty years ago groups of men were travelling to northern Ontario to go fishing, but that market is changing. We didn't need fancy food before because the guys going fishing would just eat hotdogs. We needed to provide better experiences for this new group of tourists who are now trying us out."
Visitors often start their tour in North Bay, travel to Temiskaming Shores in Ontario and then cross the lake to Temiscamingue region in Quebec.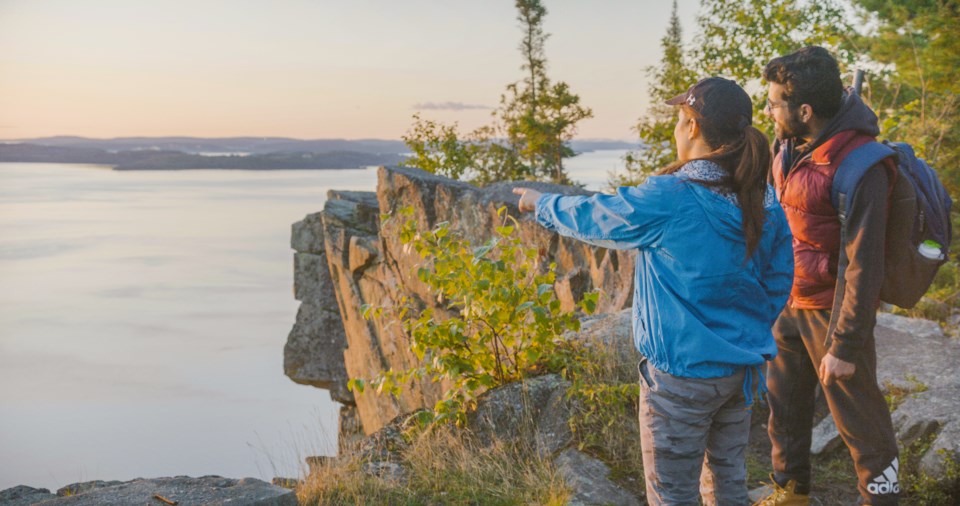 One of the most unique restaurants is L'Autochtone Tavern Americane in Haileybury, which is owned by Indigenous chef Jerry Brandon. He offers a contemporary take on North American classics as seen through an Indigenous lens. Imagine sitting at birch bark tables next to moss walls and eating braised rabbit with wild rice risotto or braised duck leg poutine.
Restaurants are blending food and preparation styles from English, French and First Nations cultures with a focus on local and sustainable ingredients. They call this initiative 1 lake, 2 provinces, 3 cultures.
There is some fabulous food in this region. Whenever possible, the food is made with locally sourced ingredients such as wild berries and oats.
Smoothwater Outfitters and Lodge offers visitors foraged tea, which they call high tea with twist. At the Whiskeyjack Beer Company guests can enjoy beer and food pairings.
Local food producers are opening their doors to tourists. Bison du Nord, the largest bison farm in eastern Canada takes visitors on wagon rides to view their herd of 300 bison up close. There are all kinds of mini experiences like this.
Franks said, "The tourism experience is different in northern Ontario, you can get away from the crowds in the big city."
Communities around Lake Temiskaming are inviting visitors to take a drive to their region to enjoy a taste of northeastern Ontario's rich food heritage.
Click here to start planning your Temiskaming Lake Tour or to explore the route today.
For more information on the Temiskaming Tour Route please visit: www.laketemiskamingtour.com
About Destination Northern Ontario (DNO)
Destination Northern Ontario is one of 13 not-for-profit regional tourism organizations funded by the Ontario Ministry of Heritage, Sport, Tourism and Culture Industries. We are the largest tourism region in geography, the second largest in expenditure and the only region that includes sub-regions.
Our Vision:
Northern Ontario will be a unique and distinctive tourism destination wherein high-quality products and experiences resonate with consumers, entrepreneurship is valued, and tourism provides local, regional, and global connections for the entire region. Destination Northern Ontario will take a leadership role to strategically guide and champion growth in Northern Ontario's tourism industry, through strong communication, collaboration and partnerships with industry.
For more information on Destination Northern Ontario, please visit: www.destinationnorthernontario.ca. Follow us on Twitter or on Facebook for the most up-to-date news and information.