Sudbury-based Internet service provider Sunwire Inc. is excited to share its latest Home Internet offering – Sunwire Whole Home Wi-Fi.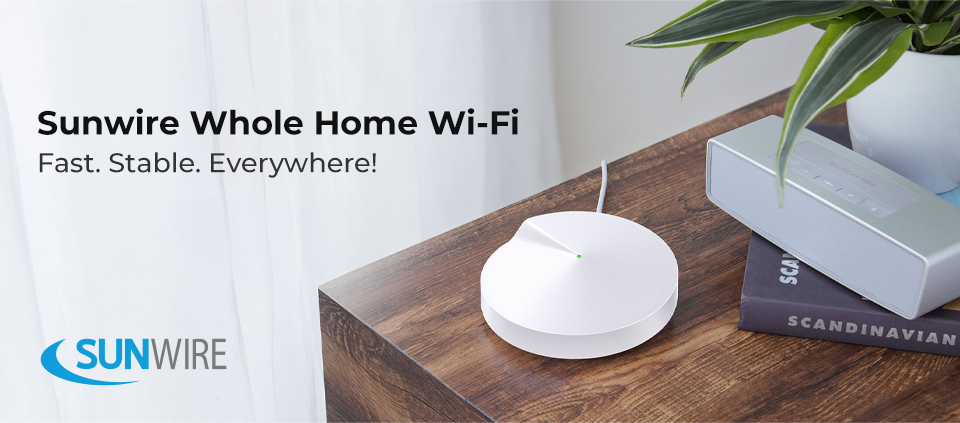 The name says it all – get fast and stable wireless connectivity throughout your entire residence.
"A typical home internet connection requires an internet modem, which receives internet connectivity from the outside infrastructure (copper, cable or fibre lines) and a wireless router to provide the residence Wi-Fi signal." Explains Ray Brisco, Residential Support Manager for Sunwire. Brisco indicates that: "Because of factors such as: router location, building materials within a dwelling or other devices on the same frequency – weak Wi-Fi signal areas can arise. Sunwire Whole Home Wi-Fi solves that problem."
Sunwire's solution uses the latest technology and hardware to achieve seamless Wi-Fi coverage with top speeds and no weak signal areas. With advanced Deco Mesh Technology, wireless access point units, placed throughout the home, work together to form one unified mesh network. This means that all of your devices automatically switch from one access point to another as you move throughout your home – giving you the fastest speed possible.
Best of all, customers simply have to find a place for their equipment and plug it in. Managed remotely by Sunwire's team of technical experts – there is no configuration or expertise required. If users prefer, they can also download the Deco app to manage and control their own mesh network (changing passwords, parental controls, etc).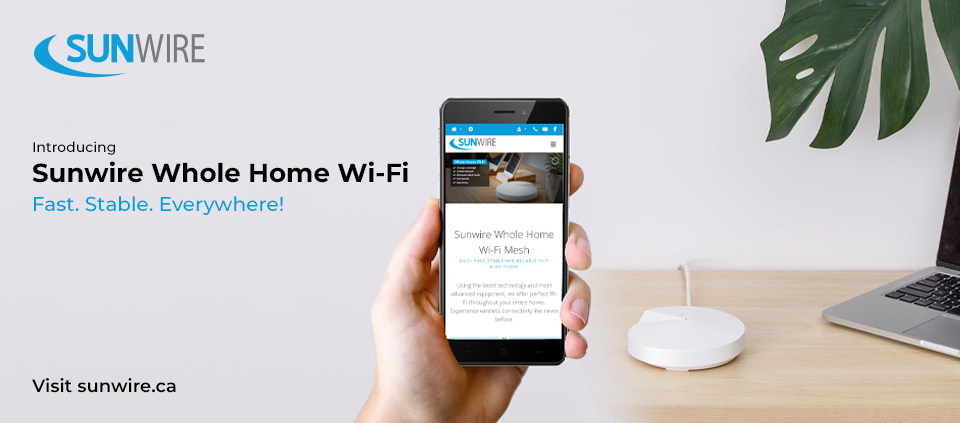 Experience wireless connectivity like never before. New and existing customers can learn more or sign up for Sunwire Whole Home Wi-Fi in minutes online.
Tips and Information regarding Wi-Fi Network Connectivity
For those without Whole Home Wi-Fi, Sunwire's Technical Support team has put together the following information and tips to help you better understand your wireless connection.
Know your Wireless Network and Equipment:
Understand your equipment. The modem connects to the outside infrastructure. The router provides a local network and Wi-Fi signal. In some instances, these functions are combined into one device.
Ensure your equipment is connected as per any provided instructions.
Do not use the power supply from another device on your modem or router. Correct voltage and amperage matters. It's important to ensure the correct plug is used for the correct device. Issues this avoids: equipment rebooting unexpectedly, poor Wi-Fi performance, equipment failing to work properly and permanently damaging equipment.
Improve and Understand Wi-Fi Connectivity:
There are two main frequencies used for wireless connectivity: 2.4GHz and 5GHz (this is unrelated to mobile/cellular 5G technology).
When connecting devices to a home network, when and where possible, ethernet is always preferred. For wireless connectivity – 5GHz is preferred where possible.
The primary difference between 2.4GHz and 5GHz is that 2.4GHz offers better range but lower speeds whereas 5GHz have lesser range but greater data speeds.
Sunwire Whole Home Wi-Fi automatically adjusts its frequency to the best option available.
Basic Troubleshooting:
When a device is not connecting, if possible, test the connection by connecting the device directly to the router using an Ethernet cable. This could help determine if the issue is Wi-Fi related or not.
Check the lights on the equipment. The router's internet light may change colors if the router is unable to access the internet. The modem's online light should also be illuminated when connectivity to the infrastructure is successful.
To reboot your modem, unplug the power adapter and coaxial (cable) line for at least 30 seconds. Reboots should not be required very often (if at all). Reach out to our team if this becomes a persistent issue.
Sunwire has a team of technical support agents who are available every day until 9PM to assist customers with troubleshooting and resolving their connectivity problems. We're here to help!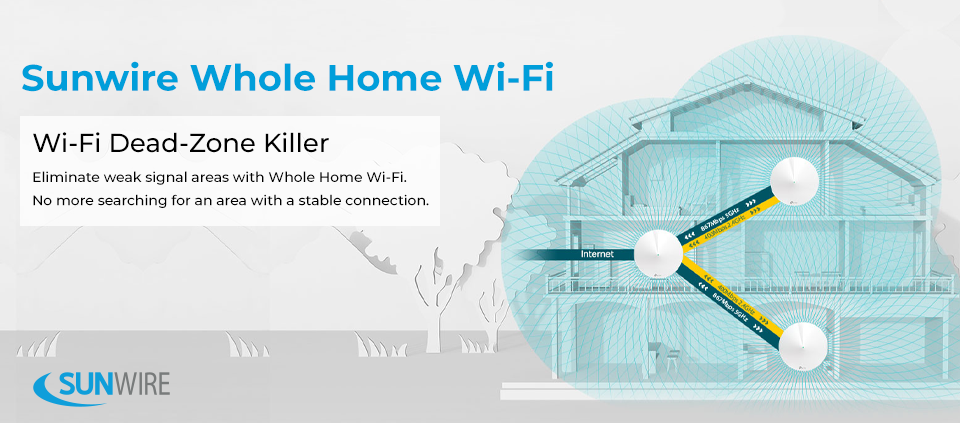 About Sunwire Inc.
Sunwire Inc. was founded as a software development firm in 2009, achieving early success by developing a state-of-the-art telecommunication platform – the SolSwitch. The SolSwitch has since gone on to process over 1 billion telephone calls for tens of thousands of homes and businesses across Canada. Due to the quick success of the SolSwitch platform, and to complement its telephone services, Sunwire added Internet to its portfolio of business offerings.
In 2016, Sunwire introduced high-speed Home Internet and Home Phone service to Greater Sudbury. Shortly thereafter, Sunwire expanded its footprint throughout other Northern Ontario communities followed by Southern Ontario regions. Today, Sunwire has over 50 local employees, was named one of Canada's Fastest-Growing Companies two years in a row by Maclean's and Canadian Business. In 2020, Sunwire won Northern Ontario Business' Company of the Year Award for up to 50 employees. To learn more, visit www.sunwire.ca.