Crawford's Camp Resort, located on Lake of the Woods, has deep roots in the Sioux Narrows community and a reputation for offering some of the best fishing in Ontario.
The resort is on the clearest and deepest part of the lake, which offers fabulous opportunities to snag walleye, northern pike and muskie, to name a few.
Crawford's Camp was established in the early 1940s by the Crawford family. Current owner, Matt Rydberg was literally born into the family business. His mother Mildred was cleaning a cabin when she went into labour with Matt. Robert Rydberg is Matt's father and his lifelong dream was to own a northern tourist resort. That same dream has been passed on to Matt, who now operates the resort with his wife Karly.
For generations, Crawford's Camp has been a recreational playground for U.S. hunters and fisherman. But the pandemic has changed all that.
Changing the way of doing business
Before the pandemic, 90 per cent of Crawford's Camp guests were American. But with the border closed to leisure travel, the U.S. market dried up and revenues plummeted. With no information as to when the border would reopen, Matt was forced to pivot. "I realized that the U.S. border was not going to open anytime soon and if we were going to survive, it would be because of our Canadian visitors."
How to fill the rental vacancies
Crawford's Camp was already well-anchored in what is known as the 'hook and bullet' market. "Promoting fishing and hunting would be redundant" said Matt, "So we focused on offering discounts and promotions to markets nearby to encourage relaxation, swimming, and escaping the chaos."
The 'getting away from it all' marketing strategy to Canadians was launched on social media, radio, and newspapers. When visitors saw the 5-star cabins with gorgeous views of Whitefish Bay, they were sold.
Matt and Karly worked hard to create a family-friendly atmosphere with a playground, water amenities and a large sandy beach. "Now the family can visit Crawford's Camp and not be stuck with fishing; they can spend their week together doing whatever they want, no matter the weather," explained Matt. This welcoming experience for families has allowed the camp to expand and grow within the tourism sector.
With winter approaching, Crawford's Camp will rely on its traditional visitors, the outdoorsmen who enjoy ice fishing for some of the best winter Lake Trout in the province.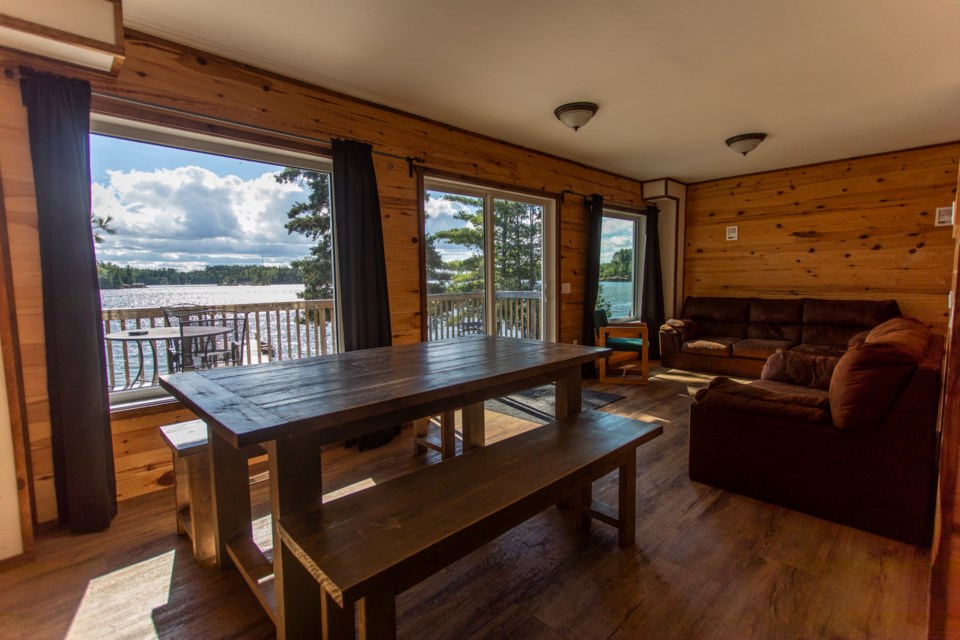 What is the future for outdoor tourism?
While other outdoor resorts in the area have not survived the pandemic, Crawford's Camp does see a future, but one with a lot of challenges created by conservation regulations. "I do believe we're going to see a large decline in our non-resident customers if things become too much of a hassle for them," added Matt.
The American visitors offered more stability by booking their vacations a year in advance, while Canadians tend to be more spontaneous, with their vacation decisions often determined by the weather, and now, safety factors driven by the global pandemic. In fact, research conducted by Destination Northern Ontario indicates that 40 per cent of Ontarians are looking to book a domestic trip within the next six months.
Promoting rest and relaxation, with a focus on family, has created new opportunities for Crawford's Camp. It's been a family business for decades and that is one thing that won't change. Everything that Matt and Karly have they've put back into the business. "The more we invest in the Camp, the more we feel that we will be able to survive long enough to pass the business down to the next generation."
If you would like more information on Crawford's Camp please visit: www.crawfordscamp.com
About Destination Northern Ontario (DNO)
Destination Northern Ontario is one of 13 not-for-profit regional tourism organizations funded by the Ontario Ministry of Heritage, Sport, Tourism and Culture Industries. We are the largest tourism region in geography, the second largest in expenditure and the only region that includes sub-regions.
Our Vision:
Northern Ontario will be a unique and distinctive tourism destination wherein high-quality products and experiences resonate with consumers, entrepreneurship is valued, and tourism provides local, regional, and global connections for the entire region. Destination Northern Ontario will take a leadership role to strategically guide and champion growth in Northern Ontario's tourism industry, through strong communication, collaboration and partnerships with industry.
For more information on Destination Northern Ontario, please visit: www.destinationnorthernontario.ca. Follow us on Twitter or on Facebook for the most up-to-date news and information.