Thousands of mining and resource sector representatives will be joined by First Nations leaders, suppliers, educators and jobseekers at central Canada's premiere trade show in Thunder Bay this September.
Canadian Trade-Ex presents the 2nd annual Central Canada Resource Expo (CEN CAN Expo) at Fort William Gardens. More than 5,000 guests attended the two-day event in 2022 and more are expected this year. Canadian Trade-Ex has been producing in-person and online events across Canada for 30 years.
"Nothing compares to an in-person event," says Glenn Dredhart the President of Canadian Trade-Ex. "We are coming off the highly successful Canadian Mining Expo in-person event in Timmins this past June and we saw record attendance for that two-day show and stakeholders and visitors couldn't have been happier," said Dredhart.
The latest economic report for Thunder Bay marks a watershed moment in the economic history of Northwestern Ontario. For decades, mining has been forestry's little brother in a region rich with natural resources. The downturn in the paper industry in 2008 combined with the emerging critical minerals boom (including the Lithium rush) means that those two industries are likely to switch positions soon.
In June 2023, the Thunder Bay Community Economic Development Commission (CEDC) released an Economic Profile for Thunder Bay prepared by the Northern Policy Institute (NPI). The review of seven key sectors found that forestry directly added approximately $47 million to Thunder Bay's GDP, while mining directly contributed $40 million.
Of course, most direct forestry and mining activity is happening in the Thunder Bay region. These numbers also do not include the revenue and jobs generated by service and supply companies, many of which service both industries. But these numbers act as a useful bellwether to gauge what is happening in the region as a whole.
Thunder Bay is currently witnessing a remarkable era in mining for Northwestern Ontario, as it enters its most significant boom period ever. Critical minerals, such as lithium, and future prospects like graphite, are leading the charge as Ontario moves toward establishing a complete supply chain for electric vehicle (EV) batteries and auto production. The Ring of Fire project continues to hold immense promise, and with the arrival of Ring of Fire Metals the region is now closer than ever to unlocking the potential of this vast, mineral-rich area. Furthermore, gold, platinum, and other precious metals remain essential pillars, with ongoing and new projects significantly contributing to the region's economic growth. This pursuit presents a unique opportunity for innovative exploration techniques, sustainable mining practices, and collaborative partnerships that prioritize environmental stewardship and community engagement.
Thunder Bay, being the hub of Northwestern Ontario's mining and exploration sector, plays a pivotal role in driving these developments. As the largest Canadian port on Lake Superior, the region is home to engineers, contractors, builders, suppliers, and branch offices for many of these ventures.
On the horizon, we can glimpse the emergence of other mining-related industries, such as lithium refining and shipping. It is truly fitting that Thunder Bay host the Central Canada Resource Expo, September 13-14 at the Fort William Gardens.
CEN CAN Expo Job Fair offers plenty of exciting features
It's an extraordinary time to be part of the mining industry and for today's environment-conscious generation, it's even more exciting. The Canadian mining industry is a global leader when it comes to environmental stewardship. People looking for good paying, long-term careers that contribute to the planet's sustainability will be well rewarded for attending the CEN CAN Expo Job Fair where there are over 70 companies accepting resumes.
The Venue – Fort William Gardens, Thunder Bay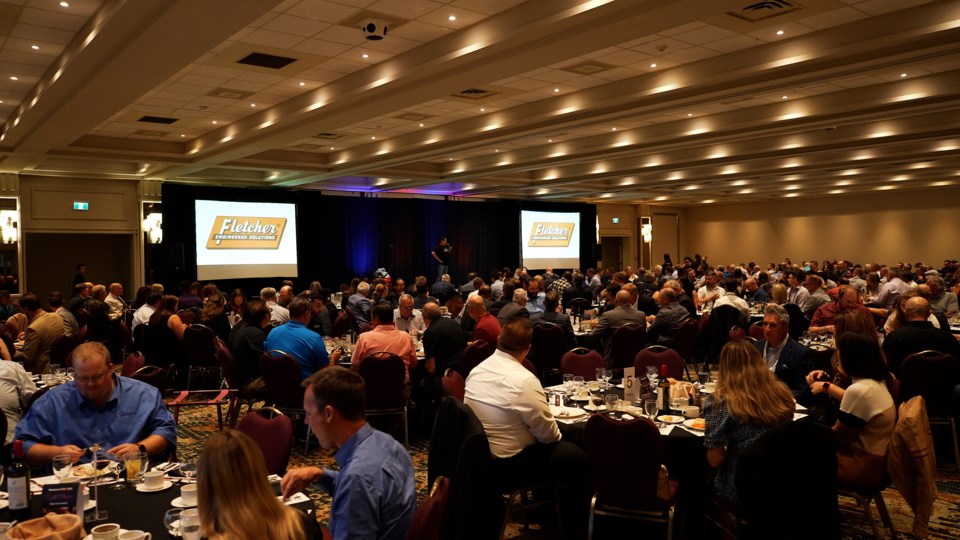 Thunder Bay and the Fort William Gardens will be buzzing with CEN CAN Expo activity with over 300 displays. The 2023 event is sure to satisfy your appetite for one-on-one contact that we all crave with the mining, junior mining, forestry, construction, energy sector, northern communities, indigenous and non-indigenous organizations, academia, and the supply & service industry are all keenly participating in this annual one-of-a-kind event.
There are several activities during the event. A few of the featured activities include:
The trade show with companies offering trade show specials, onsite demos, an industry Job Fair with over 70 companies accepting resumes,
Fundraising and networking activities,
Projects in the Pipeline Conference that will highlight major capital projects within the mining industry
First Nation's Partnership Conference featuring guest speaker Ontario Minister of Mines George Pirie, moderated by Micheal Fox
Manroc Development, Impala Canada and Mining Life & Exploration News partnered up to host the very popular Northwestern Jackleg Drilling Competitions which gathers regional miners annually to the event,
Gala Dinner hosted by the CIM Thunder Bay Branch and
VIP Social - the largest mining networking event of the year for the region, with a special appearance from the band Johnson's Creek.
The Fort William Gardens will host all the trade show activities and the conferences will be held one block away from the Gardens at the Elk's Lodge. The Valhalla Inn & Conference Centre will host the Gala Dinner and the Da Vinci Centre will host the VIP Social.
There is a literal gold mine of information at this event. Make sure you stop by each exhibitor, get re-acquainted, or make new contacts. Some of the events are limited seating and most events are filling quickly.
So, make sure you mark your calendar and register in advance online at www.cencanexpo.ca or by calling Toll Free at 1-866-754-9334.