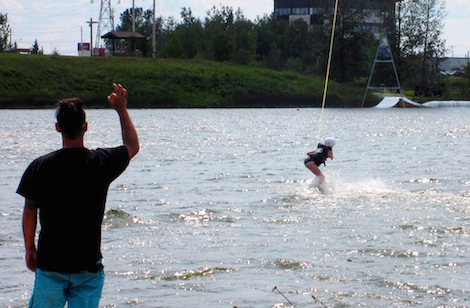 The sport of wakeboarding is steadily increasing in popularity all over the world and all indications point to an explosion of interest in the Timmins area.
Timmins Wake Park has been open at Gillies Lake for a little over three weeks, with the first runs taking place on July 4.

The project is a vision of brothers Johny and Justin Bonney, who grew up near Gillies.
They have been wakeboarding since 2000 and found a passion for the sport right away.

The idea of having a two-tower cable-operated wake park at Gillies Lake was first brought to city council in October of 2012. There were mixed opinions on the idea from Council as well as local citizens groups. Johny held a public information meeting in February this year, where members of the community were able to ask questions and have their concerns addressed.
Johny says Councillors Steven Black and John Curley were big supporters of the project from the get-go. Black has reportedly tested out the park personally and thoroughly enjoyed the experience.

Each day the park is open, dozens of trail walkers pass by with curiosity and often ask for information.

So how have the first three weeks of Timmins Wake Park been received by the community?
"It's been nothing but positives so far. The popularity and interest is increasing with each day. Especially on the hot, sunny days we can get pretty busy, which is why we recommend making a reservation to ensure your wait time will be short," said Johny
Timmins Wake Park is a two-year pilot project, which was approved by the Mattagami Region Conservation Authority, the organization who manages the Gillies Lake area.

"We're looking to make a good first impression on everyone. Introduce wakeboarding to kids and adults who may be unfamiliar with the sport. It's affordable, good exercise and it's a great way to enjoy the outdoors," added Bonney.
The City of Timmins should feel a little lucky, as these parks are far from ubiquitous.
"The nearest park is in Bala, Muskoka. We're the only wakeboarding cable park in Northern Ontario. This is only the 9th public park in Ontario, and 19th in all of Canada. There's around 300 worldwide, mostly in Europe and Asia, but they are really exploding in the United States as well," said Bonney.
Two new features were added this past weekend. A two-sided jump, known as a 'Spinekicker' and a 40-foot-long tube.
These new features will offer patrons the opportunity to attempt some tricks once they get comfortable riding with the tow cable.

Among the early concerns of local residents was the potential for upsetting the local ecosystem and wildlife of Gillies Lake.
This does not appear to have been the case, as several flocks of ducks continue to swim around the park area, despite the increase in waves from wakeboarders.
This is no surprise to the Bonney brothers.

"These systems are as eco-friendly as it gets. The 15-horsepower electric motor which moves the cable is emissions free and uses approximately 7.5 KWh per day," adds Johny.
Timmins Wake Park is open seven days a week, rain or shine. You can book your reservation by calling or texting 705-262-1160.
(PHOTO: A wakeboarder take a spin on Gillies Lake. Andrew Autio for TimminsToday)