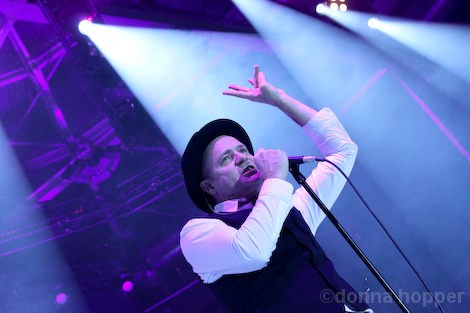 KIRKLAND LAKE – The Kirkland Lake Festivals Committee made a big announcement Thursday night prior the opening of this year's 18-day winter carnival.
The Festival committee announced that The Tragically Hip will headline two Homecoming Week concerts in Kirkland Lake this summer.
Critically acclaimed for more than two decades, The Hip will perform at the Complex on Friday, June 26 and Saturday, June 27.
"Our committee is extremely proud to be presenting one of Canada's most iconic acts," Julie Richard-Gorman, Chair of the Festivals Committee said in a media release.
To commemorate the re-issue of Fully Completely, The Tragically Hip have been performing the album in its entirety on their current tour at major venues across Canada and the United States.
Formed in 1984 the five-piece group of friends – Rob Baker, Gordon Downie, Johnny Fay, Paul Langlois and Gord Sinclair, have since sold millions of records worldwide, managing to enjoy both mass popularity and a fiercely loyal fan base.
The Tragically Hip has been at the heart of the Canadian musical zeitgeist, evoking a strong emotional connection between their music and their fans that remains unrivalled in this country.
The Hip has achieved the enviable status of a band that enjoys both mass popularity with more than 8 million albums sold worldwide, as well as peer recognition through 14 Juno Awards from more than a dozen recordings.
Members of the Canadian Music Hall of Fame, The Tragically Hip have released thirteen studio albums, earning two diamond certifications and twenty #1 hits. They have also recently launched Tragically Hip wine.
Their studio catalogue includes their self-titled debut album "The Tragically Hip" (1987), "Up To Here" (1989), "Road Apples" (1991), "Fully Completely" (1992), "Day For Night" (1994), "Trouble At The Henhouse" (1996), "Phantom Power" (1998), "Music @ Work" (2000), "In Violet Light" (2002), "In Between Evolution" (2004), "World Container" (2006), "We Are The Same" (2009) and "Now For Plan A" (2012). They are currently working on a new studio album.
KL Festivals entertainment coordinator Robin Connelly said in the release presenting The Tragically Hip was the ultimate goal when the organization starting presenting live concerts 15 years ago.
"The Hip's popularity is unrivalled in our country," Connelly said. "They're part of our culture and hold a special place in the hearts of Canadians. This would not be possible without the support of our many sponsors, volunteers and all of the people who buy tickets to our shows."
The KL Festivals Committee will be announcing an additional all-ages Homecoming concert plus Tragically Hip ticket information, on sale dates and fan club advance ticket information in early March.
For more information on this summer's homecoming week and this year's winter carnival visit: www.klfestivals.com.
(PHOTO: Village Media stock shot shows Tragically Hip front man Gordon Downie at a Sault Ste. Marie concert on February 12, 2014. Donna Hopper/Village Media)