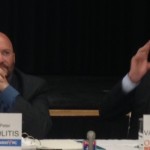 Getting northern issues heard at Queen's Park was a big focus of Tuesday night's debate in Sturgeon Falls between candidates for the Timiskaming – Cochrane
riding.
"There's some ways that the government has completely, completely, completely failed," NDP candidate John Vanthof said.
He said that a lack of understanding of the north and how the region works is the reason behind it poor wildlife management.
But Progressive Conservative candidate Peter Politis said that if northerners finally want to have their voices heard, they need to stop voting for the NDP — who he said only go to Queen's Park to protest.
"I was very clear when I chose the Progressive Conservatives that I'm a Northerner first, party second," he said.
Liberal candidate Sébastien Goyer argued consistency — keeping the Liberals in government — was best for the north, adding that francophone people in the region should be particularly worried about PC leader Tim Hudak if he wins, and what he would do to French language services.
While the Progressive Conservatives were targeted for their plans to make the government smaller, the Liberal and NDP candidates warned exactly what public sector cuts would mean in the north.
Gino Chitaroni, of the Northern Ontario Heritage Party, said that while he did not expect to win, he was focusing on keeping the others accountable to northern issues.
"My job is to keep these guys on message and on point. We want them to talk about northern concerns first and foremost," he said.
Green candidate Cody Fraser was not at last night's debate.
The Timiskaming – Cochrane candidates will have three more debates before the election on June 12.
The post Timiskaming – Cochrane debate: How to get northern issues heard? appeared first on Timmins Today.