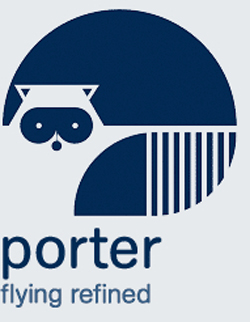 NEWS RELEASE
PORTER AIRLINES

*************************
Flights begin September 21, 2015, with up to two daily roundtrips between Billy Bishop Toronto City Airport and Pittsburgh International Airport.
The schedule features weekday departures from Toronto at 8:25 a.m. and 3:05 p.m.
Pittsburgh departures are at 10:05 a.m. and 4:45 p.m.
A detailed schedule is available at www.flyporter.com, with flights now available for booking.
"Porter's exceptional customer experience and competitive fares will be a big benefit for Pittsburgh flyers." said Robert Deluce, president and CEO of Porter Airlines. "Our goal is to give more Canadians an opportunity to experience Pittsburgh, and provide those in Pittsburgh with a new way to connect with Canada."
Allegheny County Executive Rich Fitzgerald applauded the announcement as another addition to the growing list of non-stop destinations from Pittsburgh International Airport.
"Porter Airlines' announcement marks the 50th non-stop destination served from Pittsburgh and the sixth international destination," Fitzgerald said. "We're excited that the airline recognized Pittsburgh and our growing economy as an important market to serve."
Porter is the fourth carrier to announce the start of service at Pittsburgh International Airport within the past 12 months.
"Toronto City Airport offers fast and easy connections to other key markets in Canada that are important for many business and leisure travelers in our region," said Allegheny County Airport Authority CEO Christina Cassotis.
Porter's home base at Billy Bishop Toronto City Airport is known for convenience and proximity to downtown Toronto; just 2.5 km or 1.5 miles from the central business and entertainment districts.
Porter provides a premium experience for all passengers, including leather seats, complimentary wine and beer onboard, and airport lounge access.
Its "flying refined" approach has helped make Porter the Best Regional Airline in North America two years running at the Skytrax World Airline Awards.
Pittsburgh has been named one of "The 15 Most Livable Cities in The US" by Forbes Magazine and The Economist.
It is known for scenic views and as the city with the most bridges in the United States.
Introductory round-trip fares departing from Toronto start at $321 (CAD), and departing from Pittsburgh starting at $286 (USD), including all fees and taxes.
Pricing for connecting markets is available online.
With the addition of this new route, Porter continues demonstrating its commitment to growth and service of new markets throughout Canada and the United States.
Porter Escapes vacation packages will be available at www.porterescapes.com in the coming weeks.
About Porter Airlines
Porter Airlines has revolutionized short-haul flying with a warm and effortless approach to hospitality, restoring glamour and refinement to air travel.
Porter is an Official 4 Star Airline® in the World Airline Star Rating® by Skytrax, and rated Top Small Airline in the world by Condé Nast Traveler's Readers Choice Awards.
The airline currently offers flights to Toronto, Ottawa, Montreal, Quebec City, Moncton, Halifax, St. John's, Thunder Bay, Sault Ste. Marie, Sudbury, Timmins, Windsor, New York (Newark), Chicago (Midway), Boston, Washington (Dulles), Pittsburgh (PIT) and has seasonal flights to Mt. Tremblant, Que., Myrtle Beach, S.C., Charleston, S.C., and Burlington, Vt.
Vacation packages are available from Porter Escapes at www.porterescapes.com.
Visit www.flyporter.com or call (888) 619-8622 for more information.

*************************