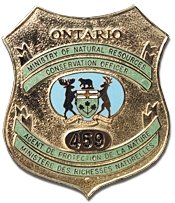 NEWS RELEASE
MINISTRY OF NATURAL RESOURCES
**************************
A Foleyet-area man has been fined $4,400 and given a 10-year hunting suspension for offences contrary to the Fish and Wildlife Conservation Act and the Migratory Birds Convention Act.
John Wade pleaded guilty and was fined $1,000 for hunting specially protected wildlife, $1,700 for possessing illegally killed wildlife, $1,500 for unlawfully possessing migratory birds and $200 for unlawfully possessing gill nets.
In addition, Wade is prohibited from hunting and being in possession of or in association with firearms, ammunition, hunting implements, or game in or near an area in which game is found for a period of 10 years.
Court heard that on October 3, 2013, a Ministry of Natural Resources and Forestry conservation officer attended Wade's residence in response to a complaint.
The officer found that Wade had shot and killed a sharp-shinned hawk that was at his bird feeder.
The hawk and a .22-calibre rifle were seized.
On October 21, 2013, officers returned to the residence with a search warrant and seized parts of more than 300 squirrels and chipmunks along with parts of northern flickers, herring gulls, pileated woodpeckers, blue jays, gray jays and a great gray owl.
Also seized were the carcasses of a hummingbird, a black-capped chickadee, a hairy woodpecker and a little brown bat, and 300 metres of gill nets.
It was determined that Wade had unlawfully killed the wildlife on his property, and that Wade did not have a licence to possess the gill nets.
All of the items seized were forfeited to the Crown.
Justice of the Peace Sylvie-Émanuelle Bourbonnais heard the case in the Ontario Court of Justice, Timmins, on November 27, 2014.
For further information on hunting regulations, please consult the Ontario Hunting Regulations Summary available at ontario.ca/hunting.
To report a natural resource violation, call the MNRF TIPS line at 1-877-847-7667 toll-free any time or contact your local ministry office during regular business hours. You can also call Crime Stoppers anonymously at 1-800-222-TIPS (8477).
**************************