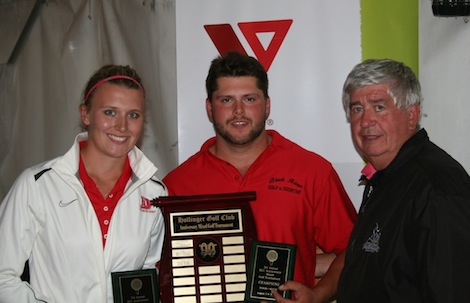 NEWS RELEASE

HOLLINGER GOLF CLUB

***********************
Madden-Losier 2014 Champions

The 3rd Annual HGC Anniversary Mixed Golf Tournament was played this past weekend at the Hollinger Golf Club.

The two-day event was a fundraiser for the Timmins YMCA Strong Kids program, which once again raised $11,000.

"This is one of the premier events of the Hollinger Golf Club season," said Club GM Jeff Boismier.

"We couldn't be happier that this event was sold out (72 teams). Our golf course staff put their best foot forward in support of this great local cause," added Boismier.

The six-person tournament committee under Chair, Mike Archer, began organizing the tournament in early February.

"The support from the business community and individuals was nothing short of fantastic. We were ready and Mother Nature cooperated with two great days of sunshine and a bit of rain," stated Archer.

The weekend included two 18-hole rounds of golf, a dinner and breakfast, over $4,000 in prizes, hole-in-one and putting contests, and draws for over 80 donated prizes.

This year's champions were the team of Shelby Madden and Philippe Losier from the Hollinger Golf Club with an unbelievable 20 under par score of 122 (62-60) for the two-day event.

***********************
Pictured left to right: 2014 Champions Philippe Losier and Shelby Madden receiving their tournament awards from Mike Kentish, YMCA Board member and co-chair of the 2014 HGC Anniversary Mixed Golf Tournament.