With the spring break up and forest fire season on the way, work is ongoing behind the scenes to make sure evacuees arriving in Timmins will feel at home.
All the partners involved — from people who have been evacuated from the James Bay coast, to elders, City of Timmins staff and a variety of organizations — are meeting today to talk about Timmins' emergency evacuation plan.
Ryan Verreault is a Timmins firefighter and works with Gervais Emergency Consulting (GEC) as a team lead on his days off.
He's been involved with the local evacuations for about five years and has seen "so much growth" in how they operate.
Before, he said, people were given a hotel room and meals.
"Now there's a lot of shift to activities to help the communities grow while they're displaced, training opportunities for the adults, awareness for all kinds of things. And then there's all the fun activities for the kids, the field trips to the parks and stuff like that," said Verreault.
"The biggest growth with this framework is the voice that everybody has. At the beginning, it was two or three people in a room and all decisions were made. Now there's meeting after meeting to make sure that everybody's aware of the process, what's going on, both in the evacuated communities with water levels or the fire situation and what's happening here to make sure everybody's safe and happy."
Gervais consulting started working with the City of Timmins on evacuations in 2018.
Since then, Timmins has set a standard for how to be a host community and the company's developed the Stronger Together Framework.
The plan goes beyond simply lodging to consider health, social and recreation components as well. It builds on the provincial and federal emergency response documents.
"At its most basic, Stronger Together is a tool for relationship building. It is a formal process of identifying each member's strengths and existing efforts so that they can be used more effectively as on during a time of crisis," said GEC's Michelle Gervais in a news release.
For the past five years, Timmins has welcomed hundreds of evacuees.
It usually starts in the spring when the threat of spring flooding leads to the evacuations of communities on the James Bay coast. The city also opens its doors to people from areas affected by wildfires.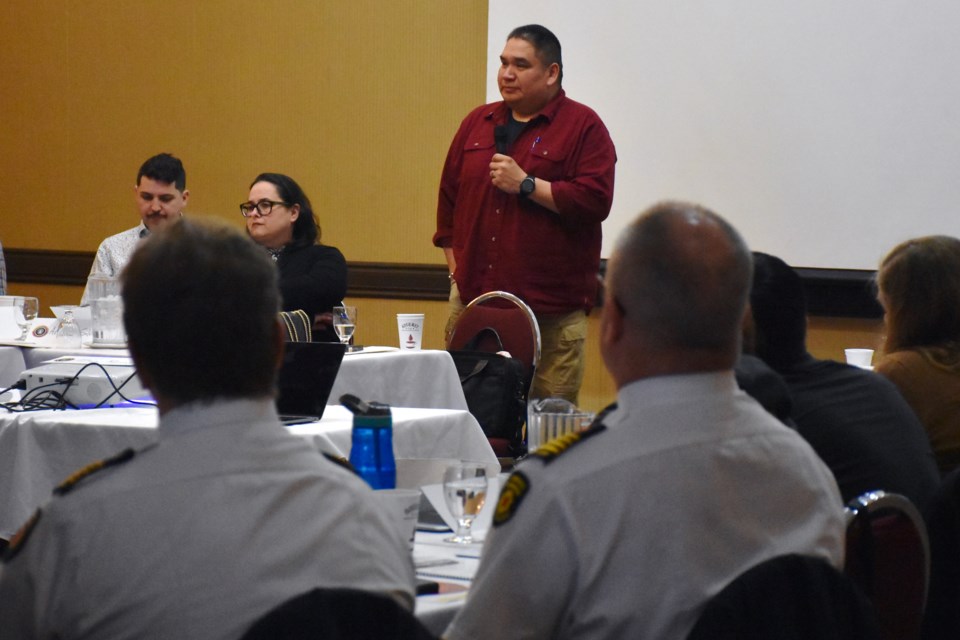 Partners Tara Sloss and Matthew Gull are both involved in today's planning session.
Sloss is a Mattagami First Nation member and moved to Peawanuck in 2018 to be with Gull, who is a member of Weenusk First Nation.
As a child, Gull survived the 1986 flood that destroyed the remote community and killed two people. Later that year, Weenusk First Nation relocated the community down the Winisk River to higher ground.
"Although they've made great strides forward in moving the community and flooding maybe isn't our biggest risk, we still have other risks. We have wildfire, it is still a big risk, and lack of fire services within the community. The year that we got involved with evacuations here in Timmins, we came in as entry-level. I came in helping with foot patrol or peacekeeping and (Gull) came in through the 3CRPG (Canadian Rangers) and they were helping with transportation," said Sloss.
Afterwards, they started talking to Gervais and voicing some of their concerns.
Making sure that the host site isn't institutionalized with guards in full uniforms, letting kids have fun and addressing the language barrier are some of the ways they've been working to improve the process.
With most of the James Bay communities being dry, being in an urban centre allows easier access to items.
"We ran into a lot of drinking, drugs, even human trafficking (are) some of our biggest concerns about coming here because it's a whole new world to some of them," she said.
"For us, it was really that this framework is about working with them to help deter some of that. That's why it was really important for our team to have mental health, addictions, social workers, PSWs and that on-site."
The couple has also encouraged taking a different approach to people struggling with addiction.
"Let's sit down, let's have a conversation … let's see how we can help you without throwing you in jail because you're not a criminal," said Sloss.
"Like last year we had an individual who kept putting their empties out into the hallway every morning after he had drank. And I go, that's a cry for help," added Gull.
They asked the man about going to a treatment centre. It's what the man wanted, said Gull.
"And his community went home and he chose to stay in treatment," said Sloss.
When planes start arriving in town with people temporarily displaced from their homes, Sloss said being respectful and having conversations are important.
"And I think it's really about educating yourselves whether it's taking the time to do an Indigenous awareness workshop or just learn, educate yourself if you don't know, rather than making assumptions and judgments, I think is important," she said.
This spring will be Mayor Michelle Boileau's first evacuation at the head of the council table.
Today's session, she said, is beneficial to strengthen relationships and getting to know everyone ahead of being in crisis.
"Being fully honest here … I'm a little nervous preparing for our first evacuations as mayor and it's been so relieving to see the partners around the table, to see the level of experience that's already here, the relationships that have already been built," she said.
With Timmins already being a service hub for people living on the James Bay coast, she said people are familiar with the city. The infrastructure needed, from rec facilities to healthcare and more, are also already in place.
"Hearing from some of the testimonies this morning it's extremely traumatic even to be displaced and to be without your home without your things. So be able to come to the City of Timmins, a community that you're already familiar with, you already know how to get around, you might already have friends and family members here, it's understanding that it would be a first choice for any community that's looking for a host community," she said.