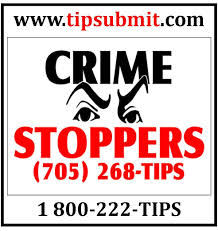 NEWS RELEASE
CRIME STOPPERS
***************************
Crime Stoppers and the Matheson OPP would like your help in solving a break and enter at a seasonal residence located off of Hwy 101 near the Quebec border.
Sometime between July 10 and July 23, thieves entered onto the remote property and forced their way into 2 cabins, a shed and a travel trailer.
The thieves made off with a Nautilus solar powered 12 V battery, 3 solar panels, a Sirius XM Radio, 3 sleeping bags and a 30lb propane tank.
The total value of all items taken comes in around $1200, not counting the damage done to the various structures.
Tire and footwear impressions were collected at the scene but still your local OPP officers need your help in locating and arresting the persons responsible for this break-in.
Arm your police force with viable information and they will do just that.
Call Crime Stoppers right now at 705-268-8477 or provide your tip to www.tipsubmit.com.
You can earn a cash reward while remaining completely anonymous.
A safer community is only a phone call away.
***************************