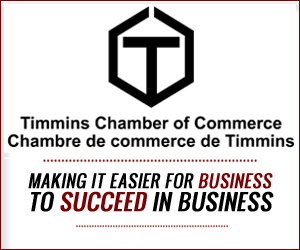 NEWS RELEASE
TIMMINS CHAMBER OF COMMERCE
**************************
With all the ballots counted, the members of the Timmins Chamber of Commerce have officially elected six new individuals to represent them at the heart of city's largest business organization.
Coming from a range of business sectors and backgrounds, these six will now sit on the Chamber's 21-member board, providing direction and guidance to its policy, advocacy and programs on behalf of its 700-plus members.
"The expertise and experience of this year's Board of Directors is impressive, and I look forward to working closely with them when the new Chamber year launches this fall," said Al Thorne, chief forester for Tembec in Ontario, and incoming 2014-2015 Chamber president. 
"The members of the Timmins Chamber of Commerce will be well served by these additions to the Board, which will continue working to ensure that Timmins is a great place to do business."
The new additions to the Board include Eleanor Baccega, lawyer with the Riopelle Group Professional Corporation; Patricia Buttineau, coordinator of communications and corporate responsibility with Goldcorp - Porcupine Gold Mines; Jamie Clarke, owner of Tisdale Plumbing and Heating Ltd.; John Crescenzi, general manager of Holiday Inn Express & Suites; and Val Venneri, general manager of James Toyota.
Having served on the board last year, Lake Shore Gold Corp. Purchasing Manager John Labine was also re-elected to return on the 2014-15 board.
They will be officially sworn in during the Chamber's Annual General Meeting, due to be held at the Days Inn Timmins on September 17, 2014.
Electronic and print ballots were sent out to each of the Chamber's 1,200+ eligible voting members, who had one month to place their vote for their board representation.
Each board member serves a two-year term, after which they can apply for re-election, for a maximum of three terms.
**************************