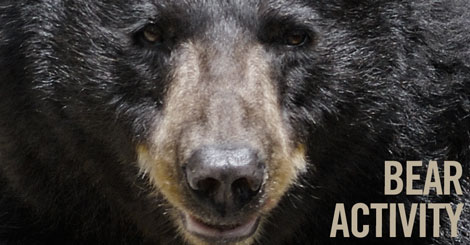 NEWS RELEASE
MINISTRY OF NATURAL RESOURCES AND FORESTRY

*************************
The Ministry of Natural Resources and Forestry and Timmins Police Service are asking area residents to be aware of bears in Schumacher area and to take the necessary steps to avoid attracting bears into local neighbourhoods.
In the past 7 days, people in the Schumacher and Gold Center area have reported 27 conflicts with black bears. Of these reported incidents, 7 involved items such as garbage and bird feeders, which attract bears.
The Ministry of Natural Resources and Forestry reminds the public that bears are often attracted to such things as garbage, bird food, including suet, seed and nectar, odors from barbecues and ripe fruit left on trees and on the ground. Removing attractants can help keep bears out of the area.
The ministry would like to thank the many people in this area who are already eliminating attractants. It takes only one property where attractants are not managed carefully to draw bears to a neighbourhood. Everyone must work together to keep bears in the wild where they belong.
Ministry staff is working closely with the Timmins Police Service through this time of increased bear activity.
Right now, some natural foods for bears in this area are delayed due to a cold spring and late frost. When the availability of natural foods is poor, bears will look for alternative food sources, often in communities. When bears cannot gain access to non-natural foods such as garbage, they will not stay in the area.
QUICK FACTS:
If a bear poses an immediate threat to public safety by exhibiting threatening or aggressive behaviour, call 911 or your local police 705-264-1201 (Timmins Police Service).
For advice on removing bear attractants, call the Ministry's Bear Wise reporting line toll-free at 1-866-514-2327, Hearing Impaired (TTY) 1-705-945-7641. You will be connected with a live operator during bear season (April 1-Nov. 30).
Find out more about what to do in emergency and non-emergency situations.
Read more about bears at ontario.ca/bearwise.
*************************