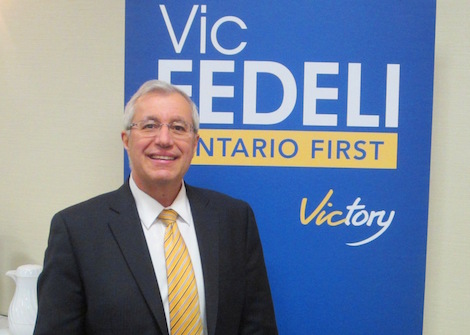 Nipissing MPP Vic Fedeli was in Timmins on Thursday to gauge support in the area for his bid to become the leader of the Ontario PC party.

Fedeli held a meet and greet at the Days Inn on Mountjoy Street South, welcoming members and non-members of the party.

The former mayor of North Bay, who served in that position from 2003 to 2010, is the current PC finance critic.

Earlier in the day, he sat down with TimminsToday to discuss his stance on pressing issues in the area.

On December 5, 2014, Resolute Forest Products announced the closure of its mill in Iroquois Falls which resulted in the loss of at least 180 jobs.
This was a devastating blow for the community of 4,500 and the repercussions will inevitably be felt by all nearby communities, including Timmins.
Fedeli believes the reason manufacturing operations have been rapidly decreasing in Ontario is due to poor leadership at Queen's Park.

"We've seen 2,700 businesses close in Ontario last year. When you think about Kellogg's or Caterpillar or Heinz, they still make cereal, they still make earth-moving equipment, they still make ketchup, they just don't make it in Ontario anymore. So when you look at the mill in Iroquois Falls, not only is there less newsprint in demand, but a big problem is that Ontario is the highest cost jurisdiction. We have the highest energy rates in North America, we used to have the lowest when the Liberals took office (in 2003) and they flipped that to the highest," he said.

"We have 600,000 people unemployed, 300,000 of them used to work in manufacturing. We've lost 64 mills in Ontario. Eight out of every 10 mills in Northern Ontario are closed, many never to open again. So not only do we have the highest energy rates in North America, we have the highest payroll taxes in Canada. We have strangling red-tape. We have the Far North Act, which limits where you can harvest lumber and minerals. We have the Species at Risk Act, we have the Caribou Plan. Everything this Liberal government has done has shrunk the footprint for natural resources in Northern Ontario and has made everything more costly. It's no surprise what has happened in Iroquois Falls," said Fedeli.
When asked what the Ontario PC Party would do to prevent such closures, Fedeli had simple answers.

"Make energy rates affordable. Cut the red-tape. Eliminate some of the payroll taxes that are coming in now, the Ontario Registered Pension Plan is a good example. Repeal the Far North Act. These are the kinds of things that the Liberals have put in place that are all anti-business. When you look at any business deciding to move into Ontario, or to whether to stay in Ontario, you look at that $12.5 billion dollar deficit that the Liberals have built, and a $300 billion dollar debt, any businessperson will see that the Liberals are going to raise your taxes. It makes corporations either leave the province, or decide not to come" said Fedeli.
Among the most controversial debates in Northern Ontario, is that of the spring bear hunt. In 1999, it was cancelled by the PC government of former premier Mike Harris.
In April of 2014, the Liberal government of Kathleen Wynne announced it would re-instate the hunt on a trial basis, citing concerns about public safety and human-bear conflicts.

Fedeli believes there is a fairly simple solution.

"I live in the country as well. I live in Corbeil, Ontario and I've had bears in my backyard. I fully understand that there are too many bears. I would allow the municipality, on a case-by-case basis, the power to institute a spring bear hunt. That's the way to do it. This way, if there are too many bears you can implement a hunt in your area without affecting the rest of Ontario, including Downtown Toronto," he said.
Watch for more from our interview with Vic Fedeli.
PHOTO: Vic Fedeli is pictured in Timmins on Thursday. Andrew Autio for TimminsToday