Ray McIvor's passion for and commitment to safety on the job comes from a deeply personal place.
When he was just a young man, his best friend lost his life due to a horrifying workplace accident. "Being close to him, I knew his family and I've seen the aftermath of it. It hit me hard," he says.
The accident occurred in the mid-90s when safety culture was just starting, says McIvor, who had been working as a welder at the time. He immediately knew he needed to take a proactive role and improve safety conditions for everyone on the job.
"I decided I want to protect my co-workers, who are like family," he says. "I learned through a bad experience what happened to a friend and I just don't want it happening to another one."
Industry-Leading Safety is a Shared Value
McIvor is now a Health, Safety and Environment (HSE) Coordinator for PCL Construction. He served as the health and safety supervisor representative on a recent mining industry project in Sudbury.
That project, now completed, was complex in that it combined two separate and distinct health and safety systems.
"We married the two systems to build a better partnership with the owner and the client, and we showed transparency with them," he says. "For example, if we did an audit on one of our procedures or one of theirs, it's not really mandatory to transfer that information or findings to them, but we did it anyways, just so that they were aware."
Much of the work PCL has done since opening their office in Sudbury has been for mining industry clients. Experience has often shown that core values and policies seem to be closely aligned, says Superintendent Paul Kamerads, and that made integrating into the market here pretty seamless. From the clients' perspective, it made bringing PCL on as a new contractor very easy.
"One of their biggest issues has been that they're always forced to police their contractors' sub-trades to make sure that they conform to their safety policies, whereas when we came on board, we take full ownership of our trades. We make sure that everybody is in compliance and if trades or workers aren't, we take it upon ourselves to enforce the discipline procedures," he says. "That has made us a preferred contractor with mining industry clients, because we make their lives easier."
In a recent project, a lot of dust was being introduced into the environment. On a windy day, it would get outside of the plant, into the public, and it would also pose an occupational health hazard for workers, Kamerads explains.
Large dust-collection systems were introduced to capture and contain the dust, keeping it out of the environment and reintroducing the material into the smelting process. "It's a win-win for the environment, health and safety, and also for production," he says.
Industrial mining clients often have unique safety requirements including NORCAT certifications. The sector also has highly regulated health and safety requirements that include zero-tolerance for PPE non-compliance. Another significant risk on industrial mining projects is heavy equipment; personnel are strictly forbidden onsite without full orange head-to-toe coveralls with reflective stripes and reflective tape on their hard hats.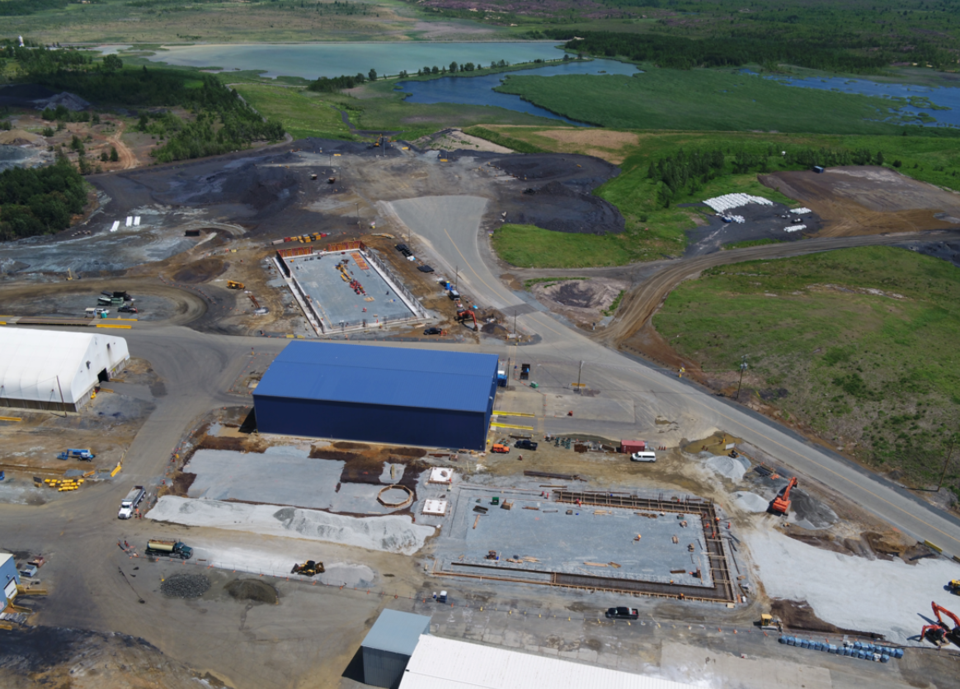 Like PCL, many industrial mining clients have a very strong safety culture. When these values align, lucrative partnerships can be created. "It makes all of our jobs that much easier and most importantly, at the end of the day, everybody goes home safe and unharmed," says Kamerads.
A commitment to safety is at the company's core and is one of its central guiding principles. PCL fosters a culture where people truly care about one another and where everyone shares in the goal of zero incidents.
PCL combines owner and community requirements for Health and Safety with their own safety management protocols . This includes a unique process called Construction Smarts, which focuses on proactive safety precautions that help achieve zero incidents on the job. Specifics include intervening when at-risk behaviour is observed, identifying and mitigating hazards before the start of a task, and verifying that all personnel understand and comply with procedures. This applies to everyone who comes onto any PCL site and empowers all stakeholders.
"Our organization is working with the local HSE education department at Cambrian College to help with providing workplace practicum/experience. This service gives back to the community ensuring students get hands-on training with Canada's biggest general contractor. We currently have one student onsite being exposed to a very complex HSE system," says Isaac Alkhoury, Project Manager.
Current events, including evolving construction technology and the pandemic, have also pushed the company to innovate and move to cloud-based safety compliance and reporting systems.
Steps for Life
McIvor recently participated in the Steps for Life fundraising walk. The program is designed to support families who have lost a loved one due to a workplace accident.
"That one's close to home for me," says McIvor. "It's not just the unfortunate passing of the individual, it's also the scarring that's left behind for the immediate family. If my participation can help just one family, that would mean everything."
McIvor started his journey in safety as a committee rep and worked his way up. He is currently building a relationship with the Infrastructure Health & Safety Association (IHSA) and sitting on the Labour Management committee. "It has gotten me to a whole new level in my career and helped me build those relationships with my local community of Sudbury," says McIvor, who transferred here from Winnipeg. "I think it's a step in the right direction and it's providing much-needed support."
He knows, though, that there is still much work to be done. "In our local area, not that long ago, a crane operator succumbed to his injuries after an incident on the job. We worked with him a couple of years back. If the money raised by Steps for Life stays local, hopefully it goes to his family," says McIvor.
He is grateful to be working at PCL. "It's family, that's it, one word. Everybody's treated like a brother and sister here," he says.
Working in health and safety is McIvor's living purpose, so that those he works with can go home safe every day. "The best reward is when a family picks up a co-worker from the site and you see the joy in the kids' faces as they hug their mom or dad."
For more information, visit PCL Construction or call 705-995-2225.