Things have been rough lately, haven't they?
The pandemic's waves, the cold snaps, working and learning from home online – if there was only a safe and affordable way to take a vacation! Wait… there is! For years tourists from around the world flock to Cedar Meadows Resort & Spa while most locals don't realize this treasure is in their own back yard.
Cedar Meadows Resort & Spa is just five minutes from the core of Timmins. The resort sits on 175 beautiful acres and houses 49 suites, five chalets, a spa, and Nordic baths. Every amenity is on site including a restaurant that serves contemporary Canadian cuisine.
There are many ways to relax at Cedar Meadows. Here, wildlife abounds. You'll see birds and maybe even the odd deer outside your window. For a truly immersive wildlife experience book a public or private tour. Public tours are sold on a first-come-first-served basis and leave at 3 pm, rain or shine. Private tours can be arranged for groups of 6-12. In the past guests have seen bison, swans, bucks and fawns. Who knows what shy creature will peek around a tree, and maybe even venture up the tractor-drawn wagon? This is the best way to see and enjoy wildlife – free and roaming in its natural habitat.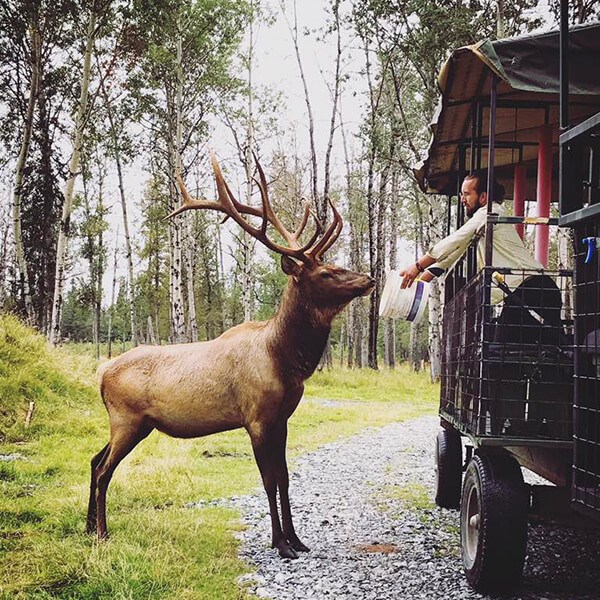 Relaxing your body and mind is easy in the Cedar Meadows' Spa Grand Nature. Indulge in a massage or enjoy a facial. Plan a ladies outing and get manicures. These are just some of the services offered. One of the most popular services is the Nordic baths. Nordic baths use hydrotherapy as a form of rejuvenation and oxygenation. The alternating hot and cold water stimulates circulation and turns adrenaline to endorphins. It's a natural way to help reduce anxiety, aches and pains.
As much as you love nature, Cedar Meadows understand if you want to blend boutique shopping and urban experiences with staying in its beautiful resort. That is why they are just five minutes from Timmins Square Shopping Centre.
The location, amenities, dining and accommodations – it's all here for you to enjoy and it's all closer than you think. When you start dreaming of a vacation or a break away from the hustle and bustle of life, Cedar Meadows Resort & Spa is waiting for you. Click here to learn more.