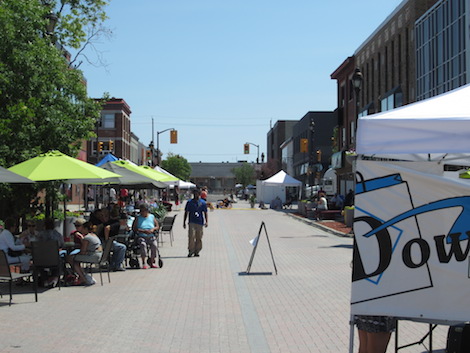 If you have a talent that you'd like to share with the public, now is your chance to shine.
The Timmins Urban Park is looking for more performers to take the stage on Friday afternoons all summer long.


"We're calling it Tunes at Noon" said Urban Park Project Assistant Nicholas Pepin. "We're always looking for more performers. It's not limited to singing or playing live music. We also want people to show off their talents."
The Urban Park takes over Third Avenue from 11 am to 3 pm, Wednesday through Friday until the end of summer. 


Wednesday is Artisans and Crafts day.
Thursday is Urban Park Market day, where you can pick up produce and other foods grown within 200 kilometres of Timmins.

Each Friday, a stage is set-up near the corner of Third & Cedar.
This is where any member of the community is welcome.


"It's great because it brings more people to Downtown Timmins, and we are noticing an increase in numbers each week. If you aren't interested in performing, you can simply watch in comfort" added Pepin, noting the new patio furniture set up near the stage.


Want to tell some jokes? Do a magic trick? Read some of your poetry?
Get in touch with the Downtown Timmins BIA(Business Improvement Association) at 705-264-8733.