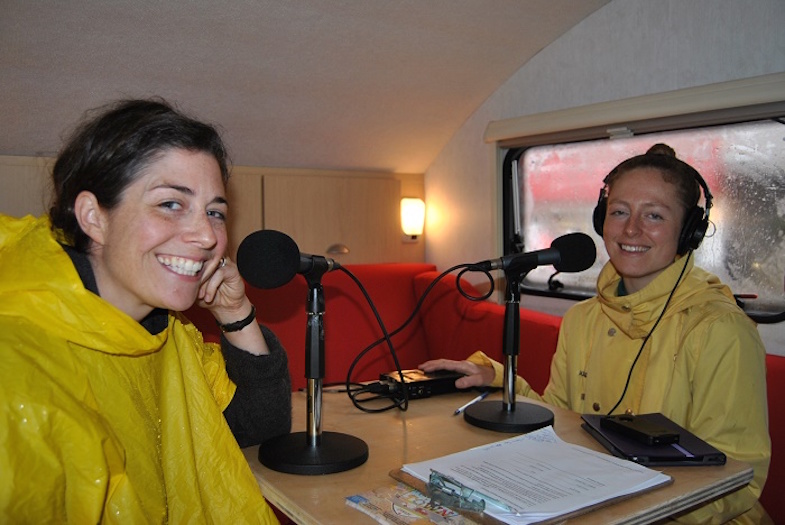 Annie McEwen from Newfoundland and Katie Swift from New Brunswick are travelling across Ontario in a red Jeep pulling a small white trailer festooned with logos from sponsors in a quest to collect a living history of Canada's Main Streets.
On a rainy Wednesday morning they pulled into Timmins and parked in front of Flondra's Jewelry Store on Third Avenue.
The project is in its third year and started out in the Atlantic Provinces and Newfoundland.
Last year it rolled through Quebec and now Southern and Northern Ontario is the focus.
Next year it will be on to Manitoba, Saskatchewan, Alberta, B.C. Yukon, NWT and Nunavut.
It is the brainchild of husband and wife duo Charles Ketchabaw (Managing Director) & Lisa Marie DiLiberto (Artistic Director) who run Fixt Point, a not-for-profit theatre and media company based in Toronto, Ontario, with a mandate to inspire audiences to imagine change.
McEwen explained that travelling occurs in summer and fall.
The trailer serves as their travelling interview studio where guests are invited in to tell the story for their main street.
The goal is to produce a living history of Canada's Main Streets in time for the country's 150th birthday celebration.
The Ontario portion will also focus on the history of the French presence as the province celebrates Ontario 400 – four hundred years of francophone history.
"Along the way we audio record the stories that people tell us and we produce a play based on what they tell us," McEwen said. "We post the play online and it consists of lines from people's stories."
In addition to the plays, the website www.thetaleofatown.com also lists the memories of Main Street and Downtown that people recall.
"The oral histories collected focus on Main Streets or downtowns which have been a centre of a town or city, " Annie said, "but today are being threatened by shopping malls and big box stores."
Evidence of that is seen on Third Avenue that once hosted Kressege's, Bucovetsky's and movie theatres.
Last Christmas Tweed and Hickory, a large, classic department store on Third Avenue, just up the street from where Annie and Katie parked their trailer, closed.
Tweed and Hickory of course was Bucovetsky's Department Store which holds many fond memories for its Christmas window and the three model toy Christmas houses that thrilled Timmins children for decades.
Many people kept calling the store Bucovetsky's long after Tweed and Hickory took it over.
Within walking distance from the trailer are vestiges of long gone downtown treasures like the old Victory Theatre on Cedar Street which is now Amigo's night club.
The large green maple leaf of the Famous Players Theatre logo still is quite visible on the side wall.
The Victory was part of the Empire Theatre chain established by Leo Mascioli in and around 1914 or 1915.
And just a few doors to the east of the parked trailer was the Plaza Theatre and to the west the Gold Field Theatre. The Empire Hotel, another Mascioli enterprise, is a brief walk away on the corner of Spruce St. S. and Algonquin.
Once Timmins' most elegant hotel, it served the visitors to Timmins who got off the train at the old train station across the street which today serves as the city's bus terminal.
In their swing through Northern Ontario, Annie and Katie have visited North Bay, Sturgeon Falls, Cochrane, Smooth Rock Falls, Hearst, Sudbury and Timmins.
Next on their list of Main Streets to visit are Chapleau, Sault Ste. Marie and Tiny Township.
During their brief stay in Timmins, Annie and Katie interviewed Mayor Steven Black and Karen Bachman, the curator of the Timmins Museum and anyone else who wanted to share their story.
(PHOTO: Katie Swift (left) and Annie McEwen are pictured in their mobile recording studio during their stop in Timmins on Wednesday. Frank Giorno for TimminsToday)