Timmins High and Vocational School runs several construction programs that help students get involved with "real life" worksite challenges, and situations. Students in 2nd semester are enrolled in a Carpenter Apprenticeship Program where they get involved with community projects, creating opportunities and experiences in building a strong foundation for their future. This semester students are constructing six, 8-foot-by-10-foot sheds which come complete with shingles, vinyl siding, soffit & fascia, one window, a door, and wiring. They are all currently at different stages of completion. A majority are reaching the final stages, however a lot of work is still required until total completion. The cost to the public is 1500-dollars per shed (delivery included).
All money generated from these projects gets recycled back into the programs, helping to offset the high costs of materials, and making the programs sustainable, with up to date safety gear, equipment, and tools.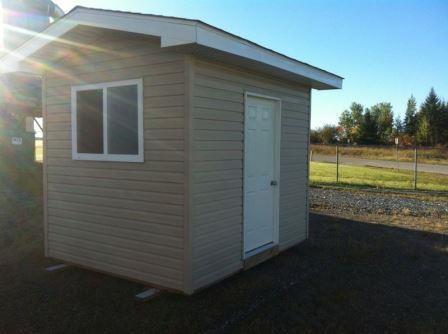 Teacher Barry Trebilcock's philosophy is that practical work drives theoretical thought.
"I make sure students work through problems, and challenges. They are supervised through every step of the building process to ensure workmanship, and safety is being exercised to its fullest. This gets students asking questions, and forces them to arrive at the proper solutions on their own. I tell my students that making mistakes is alright if you learn to correct them, and convert them into solutions. Construction is a skill as much as it is an art, which is why it takes practice."
"I wake up every morning excited to show up to Mr. T's class," says student Michael Ferraro. "People say construction is hard work, but when you're under Mr. T's wing, that hard work turns into a fun learning experience!"
For More Information Please Contact: Barry Trebilcock Construction Teacher Timmins High & Vocational School PHONE: 705-360-1411 EMAIL: barry.trebilcock@dsb1.edu.on.ca