And they say it never happens in Timmins but yet a local couple won their purchase of a Kia Rio from Kia of Timmins. Kia Canada started in November with their 60 Cars in 60 Days contest with each day a lucky customer who purchased their car has a chance to win it.
William and Emilene Dumoulin got the shock of their life after finding out that they were the lucky couple. William says, " I didn't believe the fellow when he called and told him to have my salesman call  me. I was in shock for the rest of the day!"
The Dumoulin's purchased a 2013 Kia Rio the week before and won it on their daughter's birthday.
Matt Stewart, a sales representative at Kia of Timmins was ecstatic that a customer at the dealership won their purchase. " I would believe that across Canada there are about 8000 to 10,000 people to pick from but it's still better odds than the lottery." says Stewart. The names stay in the pot for the entire contest so Timmins could have another winner.
" We are really excited and to win in Timmins, we are thrilled! What a great Christmas gift!" says Emilene
Matt Stewart says that the contest will run until the end of December.
[caption id="attachment_23922" align="aligncenter" width="448"]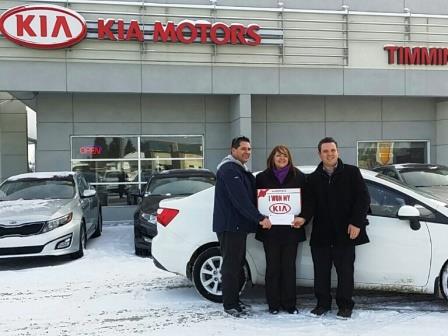 William and Emilene Dumoulin with Matt Stewart receiving their cheque[/caption]