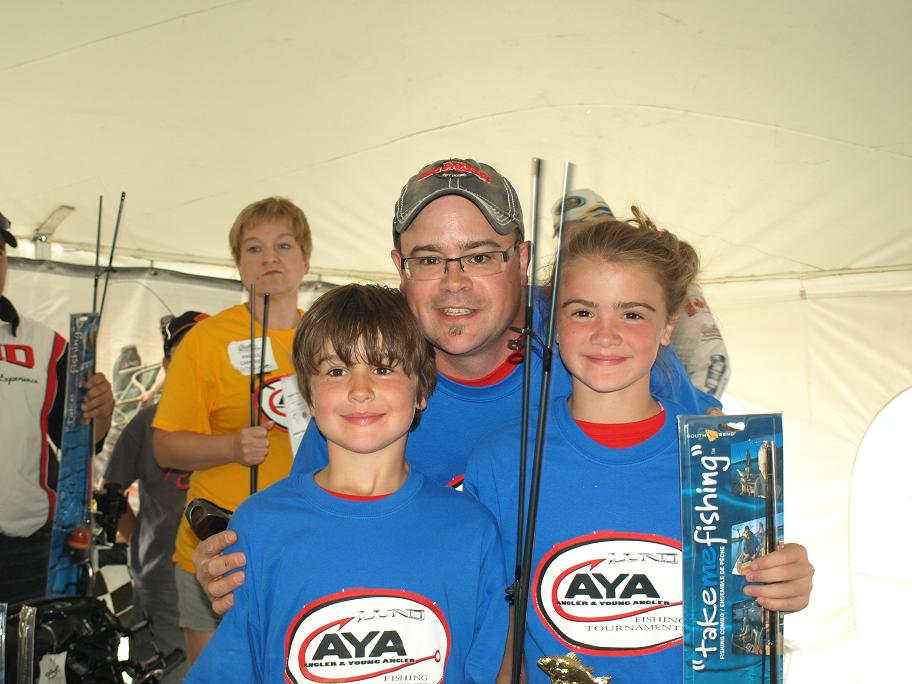 Saturday morning seen the anglers and their children waking up to a beautiful morning for the Lund AYA Tournament hosted by Guiho Saw Sales & Marine Ltd.
At the start of the day seen Craig Salmonson, Gilles Rondeau, and I helping the 36 teams launch their boats which helped keep the follow at the boat launch moving smoothly. During the launch we had a chance to talk with the kids and boy were they ever excited to be fishing in a tournament.
Lund Pro Staffer Craig Salmonson and I had the pleasure of being on the lake in Craig's Lund 208gl taping the event. The smiles on the kids faces were priceless when they seen they were being taped.
Craig had the pleasure of being weigh master at the end of he day while Gilles and I helped back up the boat trailers for the teams load their boats, which was appreciated by the fathers.
While everyone was waiting for the final results to see who had won the tournament I had the opportunity to talk with some of the teams. With the amount of Walleyes being caught, the stories from the kids of catching fish were great.
After weigh in was done and the results tallied the winners were:
1st Place - Team Labine (pictured above: John, Ada, Nolan Labine)
2nd Place - Team Hook up with the pros (Joey Chapleau, Carson Chapleau, Nathan Delguidice) 2014 suzuki df2.5hp 4 stoke outboard
3rd Place - Team Lizotte-Pelletier (Sébastien Lizotte, Maxime Pelletier and Sabrina Pelletier)
Big Fish Team Skeeter (James Lund, Zack, Makayla) $600 Value The Mark Jenson fiberglass fish reproduction
A big thank you goes out to the Cache Campground, Denis and Michelle Perrier for all their hard work, all the volunteers that helped out and to all the generous Sponsors for helping making this another success with their donations of prizes.
​If you're free this weekend and are interested in fishing a tournament, check out the Gogama 1st Annual Live Release Walleye Tournament being held on July 26 and 27. Hope to see you there!