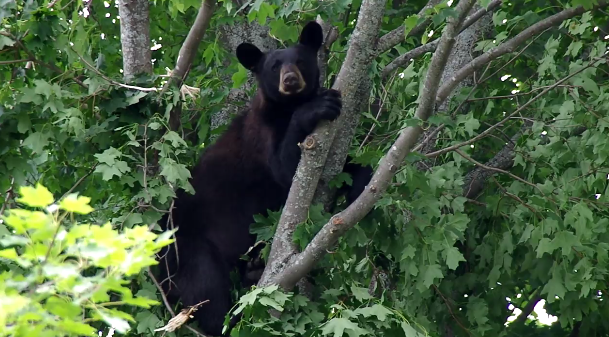 The number of calls involving black bears that Timmins Police has responded to so far in 2015 increased to 59 from the 24 calls in May and seven in April according to the figures provided by Kate Cantin, Timmins Police Communications Co-ordinator.
By comparison in 2014 there were four bear calls in April, 14 in May, and 63 in June.
So far in 2015 there have been 90 calls in total compared to 81 in 2014.
The figures provided by TPS don't account for multiple calls involving the same bear or bears.
"Timmins Police responds to calls in cases where a member of the public feels they may be harmed or threatened due to the close proximity of the bear," explained Cantin.
"If a person is confronted by a bear, they can call 9-1-1 and police will respond," Cantin said.
In responding to a call about a bear Timmins Police will use tactics to scare or chase the bear away back into the wooded area it came from.
In chasing the bear back into the bush police could use tactics such as loud horn blasts or non-lethal rubber bullets.
Numbers provided by the Ministry of Natural Resources and Forestry up to June 21, 2015 cover a wider regional area than the Timmins Police Department.
"Up to June 21, 2015 there have been 87 calls for the entire MNRF Timmins district which is much larger than the City of Timmins," said Jolanta Kowalski, senior media relations officer with MNRF. "Also one bear can result in multiple calls."
This compares to 59 for the same period in 2014 said Kowalski.
Kowalski said she can't specifically say why the increase in 2015 occurred, but that considering the size of Timmins District MNRF does not consider it a significant change.
"We know from experience that when natural foods are poor, problems with human-bear interactions increase," Kowalski said. "When natural foods are good, problems with human-bear interactions decrease
The MNRF works with the Ontario Provincial Police (OPP) and local police forces to educate the public about bear safety. Earlier this year, in April, 2015 they released a factsheet for the public titled "Bear Encounters – Who Do I Call?"
The factsheet explains the roles played by MNRF, the OPP and local police departments while also educating the public about black bear behaviour.
The protocol for acting on bear encounters calls on police to be the first responders for any emergency situation.
The local police department is the first responder in an incorporated municipality with a police department. In unincorporated areas or rural municipalities without its own police department the OPP should be called.
Police may call on MNRF during daylight hours to help respond to emergency situations
When an encounter looks like it is an emergency the public should call 911 immediately. The fact sheet defines emergency situation as one where a bear poses an immediate threat to personal safety by displaying aggressive and threatening behaviour.
Examples are:
Entering a school yard when school is in session

Stalking people and lingering at a site

Entering or trying to enter a residence

Wandering into a public gathering

Killing livestock/pets and is lingering at the site.
If the situation appears not to be an emergency members of the public may call a toll-free "Bear Wise" reporting line at 1-866-514-2327 (TTY 705-945-7641).
Examples of non-emergency bear sightings are:
Roaming around, checking garbage cans

Breaking into a shed where garbage or food is stored

Climbing a tree

Pulling down a bird feeder or knocking over a barbecue

Moving through a backyard or field but is not lingering.
The bear reporting line operates 24 hours a day, seven days a week from April 1 until Nov. 30. Information will be available from trained staff about black bear behaviour, how to avoid human-bear conflicts, and how to remove attractants from property.
For tips on the best way to avoid attracting black bears to a property in populated areas members of the public are encouraged to visit ontario.ca/bearwise.
(PHOTO: A bear is pictured in this Village Media file photo)