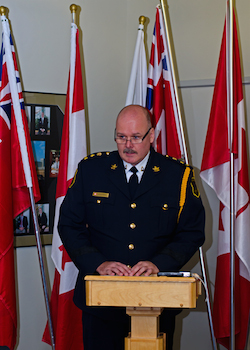 Timmins Police Chief John Gauthier will appear before the Ontario Civilian Police Commission for hearings into his conduct beginning this morning.
TimminsToday will provide full coverage of the hearing that will be held at the Holiday Inn Express on 30 Algonquin Blvd. West in Timmins
The hearing panel will examine allegations that Chief Gauthier's conduct discredited Timmins Police and breached the police code of conduct.
The allegations stem from the withdrawal of traffic tickets in 2013 that were issued to Gary Scripnick, a member of Timmins city council.
Charges of obstruction of justice against Police Chief Gauthier arising from the incident were dropped by the Crown in Nov. 2013.
*************************
Previous TimminsToday coverage of this story:
Dates set for police chief's hearing
Police chief issues statement on allegations
(PHOTO: Police Chief John Gauthier is pictured in this file photos. Dave Kramer for TimminsToday)