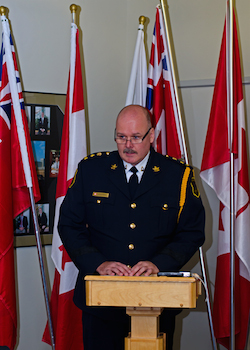 3:40 p.m. update:
Timmins Police Chief John Gauthier pleaded guilty today before a panel of the Ontario Civilian Police Commission (OCPC), to discrediting the Timmins Police force by withdrawing traffic tickets issued by Constable Kevin Clement against Gary Scripnick who at the time was the Timmins city councillor representing Ward 1.
Prior to entering the guilty plea, Victoria Kondo, lawyer for the OCPC, and Ian Johnstone, the lawyer for Gauthier, agreed to new wording for the charges and a statement of facts.
Both parties agreed that on May 19, 2013 Scripnick willfully drove through a red light at the corner of Shirley St. and Lafleur Drive.
The hearing heard that Scripnick was stopped at a red light at the intersection when he noticed a Timmins Police cruiser pulling up behind him.
At this point Scripnick got out of his car and asked for Constable Clement's help with repairing the allegedly malfunction light.
When Constable Clement, who did not recognize the motorist to be a city councillor, directed the man to the city's engineer department, an angry Scripnick said he was going to drive through the right light, the hearing was told.
Despite assurances by Constable Clement that the red light was working properly, the hearing heard Scripnick proceeded to drive through the red light.
Constable Clement then sounded his car alarm and pulled Councillor Scripnick over issuing him two provincial offenses notices for going through a red light and failure to provide valid insurance.
On May 20, 2013 Police Chief Gauthier and Scripnick went to the Shirley Street-Lafleur Drive intersection drove through it three times and the lights worked properly each time.
However after meeting with Scripnick, Gauthier cancelled the two tickets by willfully removing them from a locked box containing the charges.
The charges against Scripnick were never processed and he avoided trial which if convicted would see him pay $390 in fines.
In his defence, Gauthier said he believed he had the right to remove the charges as he was not aware of any standing orders prohibiting him from doing so.
Early in March, 2015 Gauthier discovered a 2001 standing order issued by then Police Chief Denis Lavoie that expressly prohibited a police chief from withdrawing charges once they had been filed.
In November, 2013 the Crown Attorney withdrew criminal charges of obstruction of justice arising from the police chief's interference in the Ontario Highway Traffic Act offenses by accessing the locked box and withdrawing the paper working that would have led to charges against Gary Scripnick.
Scripnick did not run in the October, 2014 municipal election and is no longer active in municipal politics.
Both Gauthier and Timmins Mayor Steven Black, a member of the Timmins Police Services Board, declined to comment when asked for how they felt about today's development at the OCPC hearing.
The OCPC hearing was convened after Timmins Police Officers complained about Gauthier's interference in pulling the Highway Traffic Act charges against Scripnick.
The hearing to consider sentencing will be held on June 11, 2015 in Timmins.
*************************
Previous TimminsToday coverage of this story:
Police chief's discreditable conduct hearing begins this morning
Dates set for police chief's hearing
Police chief issues statement on allegations
(PHOTO: Police Chief John Gauthier is pictured in this file photos)