A local Indigenous organization is doing its part to invest and help people through a new partnership.
The Ontario Native Women's Association (ONWA) has donated $13,000 to Living Space for an expansion at the shelter.
In a secure space with security cameras upstairs at the facility on Spruce Street South, 15 beds with linens and pillows line the walls. In the coming weeks, it will be open to people in need.
ONWA will have priority access to five beds for its members in crisis due to human trafficking, domestic violence or other trauma situations.
"A lot of our community members when they want to have access to support services in Timmins, they have to go all over the city in terms of walking. For me, I said, 'You know what, we're going to go to the community members. We're going to come here and find those services and supports needed here," said Virginia Sutherland, ONWA Timmins branch manager.
A case management staffer will be available to meet with community members and there will also be culture-based activities.
"For example, they'll sleep here in the evening then the next day will access it for case management or activities or any Indigenous organizations if they want to do their culture-based activities here, they're more than welcome to come in and do their activities here. It's not just ONWA, it's open to anyone — Indigenous, non-Indigenous agencies who want to access it," explained Sutherland after the announcement.
ONWA is invested in helping people living with addictions or experiencing homelessness, said Sutherland.
"If we come altogether to provide that support, have those … working relationships in terms of addressing the issues here in Timmins I think we can go a long ways and this is the first step for ONWA to step up and create that relationship here," she said.
There was a big turnout for the launch of the initiative today. Nishnawbe Aski Nation Deputy Grand Chief Anna Betty Achneepineskum and Mushkegowuk Grand Chief Alison Linklater, along with staff from their offices, and Timmins Mayor Michelle Boileau were in attendance, along with representatives from the Timmins Police, Timmins and District Hospital, and more.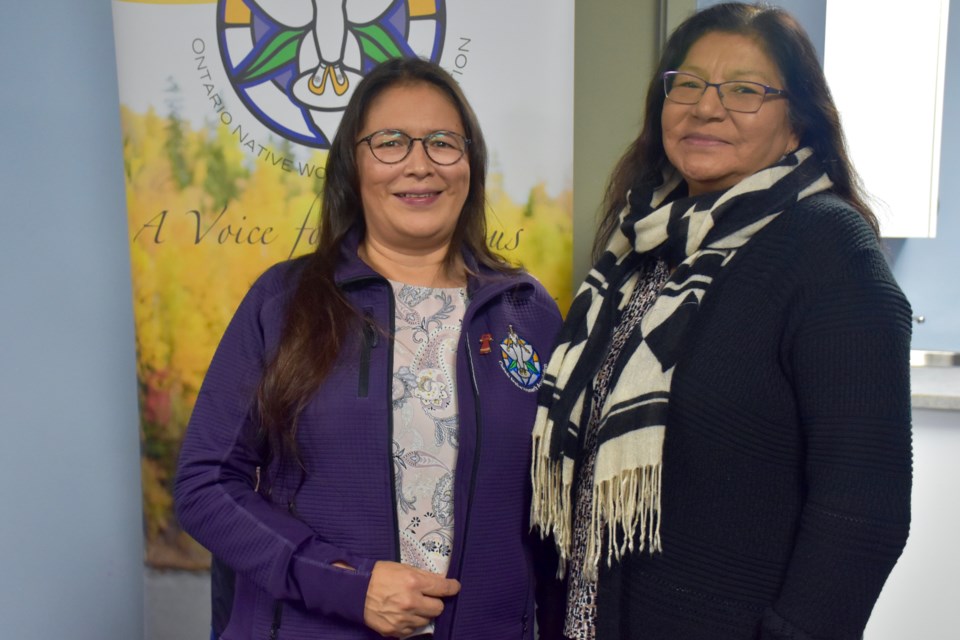 Achneepineskum is grateful for the work that Sutherland and the ONWA is doing to work with vulnerable citizens.
"This issue is just not isolated to Timmins. Nationwide we're dealing with high rates of homelessness and also mental health and addictions. Not to say that every individual that is vulnerable and homeless is dealing with mental health and addictions, but a lot of those bigger issues contribute to that. And we also have a lot of people who are displaced for various reasons. It's really a challenge to secure housing. Nationwide we're dealing with a housing shortage, including within our First Nations. We're dealing with populations where there is a 40 per cent need for housing and within most of our communities," she said.
NAN has been supporting initiatives and advocating to different levels of government and that work will continue, said Achneepineskum.
"We've written letters to the provincial ministers to come and work with us. At this time, we still have not received a reply, but we will continue to advocate for that. Because there's a need for more services and resources. Moving forward we all have one goal — to eliminate homelessness. And also to ensure that there's services and resources to work with addictions and mental health issues. We need to have these wrap-around services to provide these safe spaces for people to access services and we really need to work together," she said.