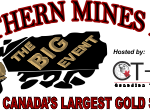 Canada's biggest Gold Show and the north's largest mining Tradex, The Big Event, Northern Mines Expo is getting ready to open their doors Wednesday at 10 a.m to 7 p.m. and Thursday 9 a.m. to 4 p.m.
Over 40 workers are now on site  setting up a virtual Tent City surrounding the McIntyre Community Centre to house the extraordinary giant mining equipment.  While another 300 booths are being set up indoors representing cutting edge mining, construction and exploration technology from manufacturers around the world!
In fact the trade-show organizers, because the show is so big, Canadian Tradex, have developed cutting edge technology to assist visitors to find and select exhibitors with a new mobile app.  Simply point your smart phone at the QR code on our posters at the registration desk or enter www.candianminingexpo.com in your browzer. In the Mobile Web app tap on the Exhibitors icon, from this mobile page you will see all of the companies who will be accepting resumes and handing out educational material. Save the organization to your favorites and the company will be added to My Expo. Select an exhibitor and a map pops up showing their location. Look at the PROMOTIONAL PAGE and take advantage of the community businesses who are offering special coupons for registered guests of the Expo.
New this year, visitors can run a drilling rig! A simulated one! Atlas Copco will be demoing their new SmartROC D65 Simulator being delivered to a local mine site. It functions like a real rig including drilling, traming and positioning. The cabin is mounted on a motion platform for maximum operator feeling.  Canadore College a new exhibitor this year for our Education and Skills Training Pavilion is bringing  a mobile recruiting unit inside a 47 ft. transport truck highlighting six of their new trades and technology programs. Featuring new innovative northern Ontario manufacturing, the Expo will showcase the industry's first hardrock EMV ( electric mine vehicle) introduced by Industrial Fabrications of Sudbury. Lynxx Technologies based in Callander, Ontario will be displaying their new mobile hydraulic platform that is amphibious, designed to eliminate routine helicopter costs.
Our popular "Mining Career, Education, Skills Training and Job Fair" community component has grown to over 44 companies accepting job resumes, educational and training materials, and Aboriginal Training Resources. You can see a list at www.canadianminingexpo.com or use the mobile app. No admission cost.
The Aecon Mining/ Boart Longyear Northern King Jackleg Drilling Competitions will be more exciting than ever this year as Timmins and Kirkland Lake vie to see which community has the top jackleggers. Al Spacek, currently the "Northern Ontario Top Mayor Jacklegger" will be challenged by Timmins Mayor Tom Laughren and Cochrane Mayor Peter Politis.  In the professional division, Paul Remillard, has brought home the crown twice for K.L while Lucien Girard and Nicholas Pozdyk have taken the crown for Timmins. Remillard is out with injuries this year but Jeff Pegg from Kirkland Lake is back in a grudge match having placing twice second tieing Girard in 2012 for first but losing with a flip of the coin. Steven Cornelsen, Joe Michaud and Marcel Dubois are also strong contenders. Tina Pellerin will be defending her Northern Jackleg Queen title while Sylvia Beaulieu, sales manager for Le Loup Radio 104.1 is ready to take on all comers from the local media to hold on to her "Media Jackleg Queen of the Air award". Registration starts at 11:00 a.m. at the Aecon Registration tent, Mayor's challenge  at 12:00 noon, Ladies invitational ( novices only) at 1:00 p.m. with the professional Northern Jackleg King Competition 3:00 p.m. to 7:00 p.m. There will be prestigious trophies and cash awards while the King takes home a valuable giant statue of a Jacklegger. All awards designed by Tyler Fauvelle. Jackleggers and their families will be treated to a complimentary Miners Barbecue.
Grand Opening Ceremonies begin Wednesday at 10:45 a.m. followed immediately after by the Mayor's Jackleg Challenge. Both taking place at the Aecon podium located in the parking lot just north of the Curling Club.  Miners Barbecue 3 p.m. to 7 p.m. For complimentary barbecue tickets go to www.canadianminingexpo.com. Thursday 9 a.m. to 1 p.m. the Aboriginal Partnership Forum and Luncheon in the Ballroom. (Tickets $100.00)  See the Nishnawabe Aski Development Fund booth in Arena 2, Curling Club upper deck for more information. Since all the parking around the McIntyre is used for displays, once in Schumacher please follow the Parking Arrows for secured parking and free shuttle bus services to and back from the event.
The post Northern Mining Expo Goes High Tech! appeared first on Timmins Today.