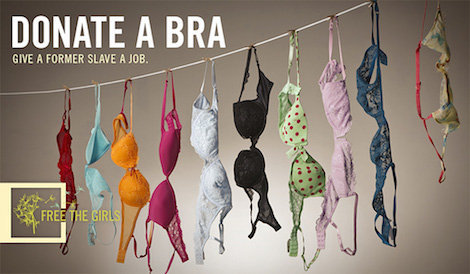 NEWS RELEASE
HOUSE OF BRAS

*************************
Timmins' locally owned lingerie store, House Of Bras..etc., is hosting a Bra Drive for 4 weeks, from April 4th to May 2nd, 2015 in support of the non-profit organization "Free the Girls".
Launched in August 2010, Free the Girls is an organization that provides job opportunities to women rescued from sex trafficking.
Together, they provide an opportunity for survivors to earn a living selling second-hand clothing at local markets; in this case it would be gently used bras.
For the women who participate the opportunity to become a retail entrepreneur provides a second chance for the women to pursue a healthy, self-sufficient lifestyle, free from slavery.
Since their launch, Free the Girls has collected over 400,000 new and gently used bras from close to 60 drop off locations primarily across the US with a few locations in western Canada.
House Of Bras is committed to supporting the empowerment of women in all areas of life.
It is for this reason that House Of Bras is participating in this drive and supporting Free the Girls.
House Of Bras is creating an incentive for Timmins' residents to donate.
For every customer who donates their gently used bras, House of Bras is offering them a 20 percent discount on the purchase of in stock bras.
House of Bras aims to collect 500+ gently used bras to donate to the cause.
House Of Bras...etc will also be donating a large stock of brand new bras from their inventory to help match the donations.
Additionally, when a resident stops in to donate a gently used bra, they can take a photo to share via Facebook with the hashtag #HOB/FreeTheGirls to let people know about the bra drive.
For every photo shared, House Of Bras will donate $1 to the local Timmins organization 'Timmins and Area Women in Crisis' Center.
No purchase is necessary to partake in this drive.
Located on Wilson Avenue, House Of Bras has been part of the Timmins Community for over 8 years, with a second store located in Sudbury.
Despite the name of the store, it is not limited to bras, they also carry swimwear, mastectomy products and loungewear.
Built on the ideals of helping customers find the perfect fit, House of Bras gives you the opportunity to make an appointment and see your own personal Fitter who can help a customer find a comfortable, supportive, and well fitted quality bra.
For more information on House Of Bras or the Free the Girls movement, feel free to contact us or to schedule an interview.
*************************