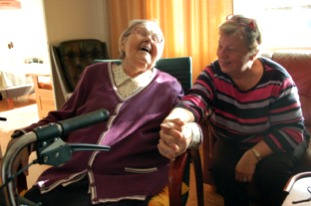 NEWS RELEASE
CANADIAN RED CROSS
*************************
Red Cross offers a diverse range of programs that allows for seniors to stay in their homes

Every year, the percentage of people in our province who are 65 or older increases slightly.
The Canadian Red Cross is preparing for this increase and currently offers a variety of programs that allow for senior community members to stay within their homes.

The senior services offered by the Red Cross include Meals on Wheels, Friendly Visiting, Telephone Assurance and the Diner's Club program.
Along with allowing seniors to stay in their homes longer, these services provide independence for the seniors and a sense of well-being for family members who may not be able to see their loved ones on a regular basis.

"The Meals on Wheels program provides either hot or frozen meals to Seniors throughout our community at lunch hour and runs Monday through Friday, and Monday, Wednesday, Friday in the Schumacher-South Porcupine-Porcupine area currently" says Caroline Caron, Seniors Services coordinator with the Timmins Branch. "Clients have the ability to sign up for multiple meals, or can simply do it once in a while – the program is very accommodating not only for frequency of delivery but for types of meals as well".

The prices for meals vary depending on whether you choose a hot meal or a frozen meal.
The hot meal consists of bread, soup, an entree (meat, carbohydrate and vegetables) and dessert - it can be tailored for specific nutrition tolerances – delivered, and all for an affordable cost of $6.47.
The frozen meals, which are geared toward seniors, cost $4.72 and clients can pick from a list of available meals.
For an additional $1.75, clients can add a soup or dessert.

"We also run a popular Diner's Club program, where Seniors are invited to attend a luncheon on a monthly basis, at their own cost. It's the perfect opportunity for Seniors to see their friends," describes Caron, "they get picked up from their homes by a friendly volunteer, and get to spend about 1 to 2 hours feasting with other seniors from the community. We engage quite a few community restaurants, so we aren't always eating at the same restaurant..."

These two programs, along with the telephone assurance and friendly visiting programs are self-referral.
If clients wish to register, they simply have to call the Red Cross office and speak with Caroline.
*************************