Crime Stoppers and the Timmins Police Service need your help to identify the suspect of an assault outside the Club 147 the city of Timmins.
On the 1st of March at 1 am an aggressive unknown male suspect was being escorted out of the establishment by staff.  As the male suspect was being walked out of the front doors the he became aggressive with the security and punched an uninvolved passerby.
Once the suspect left the front doors he was picked up by another unknown person driving White Dodge Ram pick-up holstering a yellow plow and revolving caution light atop the driver's side door frame.
The suspect was described as being from East Indian descent with long black hair reaching the center of his back and stood 5'8" to 6'1" tall.
The driver is described as a Caucasian heavy set male, wearing a red plaid jacket, black tuque and eye glasses.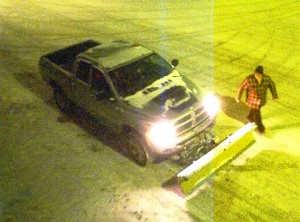 If you can help identify this suspect or driver please call Crime Stoppers at 705-268-8477, or use the internet at tipsubmit.com to place your anonymous tip.
Your call is never taped or traced, and you could be eligible for a cash reward of up to $2000 if your information helps solve this case. 
Remember, Crime doesn't pay, Crime Stoppers does!