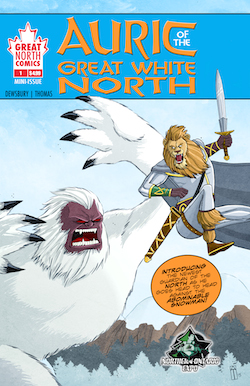 There's a new Canadian superhero and he's here to guard the North.
Auric of the Great White North is a new superhero comic book, the first issue being exclusive to Northern Ontario Expo's 2015 show.
The Northern Ontario Expo is a 2 day sci fi and pop culture convention held in Timmins, Ontario April 25 and 26.
During the shows previous year, artist Mike Rooth, designed the new mascot for the 2014 show and was named Auric by Katy Montigny during the social media contest held on the Northern Ontario Expo Facebook page.
"Artist Alley will see some familiar faces from last year but also some new ones," said Davis Dewsbury, Artist Alley coordinator and E.H.JOES comic writer. "This year, Toronto Artist Andrew Thomas will be joining us. When he confirmed his appearance for this year's show, Andrew asked me if he could do something special for it. He wanted to do a comic especially as an exclusive for our 2015 Northern Ontario Expo."
Toronto artist Andrew Thomas approached Artist Alley coordinator and comic writer Davis Dewsbury about creating an exclusive comic featuring Northern Ontario Expo's mascot.
"That exclusive took the shape of the mini comic which Davis generously offered to write," said Thomas. "He brought something new and fun to this story which proved to me there was no one better suited for the job."
Thomas and Dewsbury have been hard at work creating the family friendly comic book, set to be released on April 25 at the 2015 Northern Ontario Expo.
Set in a fantasized Timmins, the first issue will showcase Auric battling monsters and saving the day.
"I read an article that suggests we are entering a golden age of Canadian comics and that is an initiative we want to expand on," said Thomas. "Mike Rooth did a fantastic job designing a strong, unique character that you couldn't help but imagine the possibilities for adventure. It gives us the opportunity to tell stories about a hero in this beautiful country"
After Northern Ontario Expo, Thomas and Dewsbury will be working on another mini comic featuring Auric for Niagara Falls Comic Con in June and then possibly a full series afterwards.
Auric of the Great White North's first issue will be available for purchase this April 25 and 26, exclusively at Northern Ontario Expo.
Both Thomas and Dewsbury will be available at the convention to talk about Auric and their current projects.