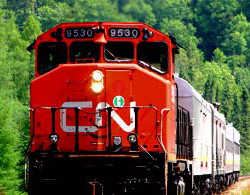 NEWS RELEASE
CAPT
*************************
Hearst has been organizing a very attractive event to which we are encouraging people to travel by train.
It is a wonderful opportunity to spend some time in a very warm and hospitable town that is 95% francophone.
Being in Hearst gives you the chance to immerse yourself in Franco-Ontarian culture and atmosphere.
By taking the Algoma Central passenger train to Hearst on September 11, you will be there for the culinary festival called Taste of Hearst on September 13 and also spend the 12 visiting some of the local attractions.
On September 14 the ACR takes visitors back home on the southbound train.
Special rates are available at the Companion and Queen's hotels as outlined below.
There is also a list of some of the things you can do on the Friday, as well as rates for car rentals if you chose to rent a car for the day to see places outside the downtown area.

If you cannot take part in this four days of beautiful scenic trips on the ACR, the Taste of Hearst and the chance to explore interesting places in Hearst, or even if you can, we encourage you to pass this message on to those whom you think would be interested.
For more information please contact Francine Lacroix-Hoff by phoning her at 705-372-2839 or emailing her at flacroixhoff@hearst.ca.
You can also visit the Hearst website at www.hearst.ca.

Northern Flavours in your plate!

For those who wish to join the 2nd edition of The Taste of Hearst on September 13, 2014 we invite you to take advantage of the two packages being offered by Companion Hotel- Motel and the Queen's Motel.
Packages do not include train tickets.

Package Information:

Package One (With Queen's Motel)
3 night accommodation
Rib Contest Dinner

Single Occupancy $285
Double Occupancy $345
Triple Occupancy $390
Quadruple Occupancy $435

1004 Front St, HWY 11
Tel: 705-362-4361
Toll Free: 855-362-4361
www.queensmotel.ca

Package Two (With Companion Hotel-Motel)
3 night accommodation
Rib Contest
2 Breakfasts
10 Taste of Hearst Tickets

$320 per person
930 Front St, HWY 11
Tel: 705-362-4304
Toll Free: 888-468-9888
www.companion-hotel-motel.ca
*************************