It is with a heavy heart to announce that we lost a pioneer in the Northeastern Fishing Community on May 26, 2020, Mr. Jim (Jimbo) Patry.
Like many anglers, I looked up to him. He will be missed by many that he had touched over the years with his hard work, kind words, and sense of humour.
In honour of Jimbo and all his accomplishments within the fishing industry, I like to repost his angler profile I had written back on April 29, 2014.
Our deepest condolences go out to his wife, Lori, Son Jason and family.
The following column was originally published by TimminsToday on April 29, 2014
Last fall at the Mattagami First Nation Walleye Classic I had the privilege to sit down with Jim Patry. I had met Jim some years ago when Craig Salmonsonand I had stayed at his home for the night before heading to a North Eastern Ontario Bass Association (NEOBA) tournament. I remember thinking to myself, at the time what a mountain of a man he was as he showed me to my room for the evening. Once I walked into the room I was taken back by all the tournament plaques that were hanging on the wall. As I looked at them I could see that the plaques had Jim and his wife Lori names' on them.
Since this was the first time that I really had a chance to sit down with him, I had to ask him some questions like how many years he had been fishing as well as fishing with his wife Lori. Jim told me that he has been tournament angling for 38 yrs. Jim started talking about Lori and how strange one person adapts to their partner. When Jim and Lori started dating she knew he was an outdoors kind of guy however she was not an outdoors kind of person.
Jim said that he remembered cooking over an open fire, with the smoke and ashes on a hot dog bun that there was no way she could eat it. It took several years before she started coming around but she did get hooked on the outdoors. Jim recalls that when a fishing trip was planned, that after his shift, he would get home and Lori would have the truck camper packed with all the necessary gear. Jim says, "Gotta love a woman like that ".
The first part of their marriage they fished backwoods, every weekend off work. Lake trout was their main target and it became so simple to catch we would release most of our catch. At times Lori would be waiting for Jim's arrival at daybreak by the boat yelling "Let's Go! We are missing the best part of the day! ".
Seeing how "catch and release" was coming on strong at that time, they decided to jump on the bandwagon. Why not fish for competition, money or prizes? Why not since they were releasing all their fish anyway?
One weekend they decided to try a pike tournament put on by the Chelmsford Fish and Game Association. In a field of over 200 boats, they came in the top 25 and took home some lawn chairs and fishing tackle. It wasn't much, but it was fun and exciting and got them hooked on tournament angling. They continued to fish every live release tournament they could. Pike, walleye, bass, lake trout; it didn't matter what species, it was in their blood. This was their way to break away from work and worries.
For the first 15 years or so they mostly fished pike tournaments. They did very well fishing out of their 14-foot aluminum with a 15 horse Evinrude. Jim said that Lori always had a way of out fishing him. He believed that is what brought out the competitive drive in him. Jim said that he couldn't recall what year it was, but their best finish back then was a second place in St-Charles and a fourth place in Cache Bay. Tournaments were two-day events back then and the field of anglers was always 200+ boats which made for some pretty tough fishing on day two of these events. They ventured down toward Southern Ontario for a few bass tournaments with their little boat in tow to soon find out it was not made for lakes such as Simcoe or Couchaching.
After several years of begging, Lori gave Jim the "ok" to get a new boat. Soon an 18' Javelin bass boat with a 150 Johnson sat in their driveway, which was 1987.
The Northeastern Ontario Bass Association (NEOBA) started up in 1991. A big thank you to Bob Milette and John Henderson for getting that show on the road.
Jim and Lori fished together as a team for 20+ yrs. He said that Lori had the ability to locate fish. Sometimes when things would not be going well she would say "take me over there, I know there are big fish there" Sure enough we would get into some big bass. Lori held the record for catching big fish of the day and big fish wins. Lori has since retired from tournament angling but still gives me little hints on the "where to and how to". While talking to Jim at Mattagami Fall Classic, Jim had the brightest smile as he relived those tournament days with Lori.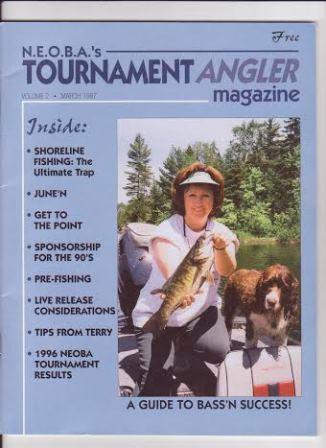 In 2000 Jim began editing (T.A.M) Tournament Angler Magazine and did so until 2012. T.A.M. has been in print since 1993 and is to this day. It is/was a big part of the bass series. Bob Milette and John Henderson were the initiators of T.A.M. followed by Mike Shoults, Audie and Karen Greenwood. When it fell into my hands it was much easier than starting it from scratch. A big thank you to my predecessors for doing a great job and making the transition easier. Jim took over as president of NEOBA 2000.
During NEOBA's 2002 nine events, Jim had 7 top 10 finishes, 1- 1st, 2- 2nd, 2-4th, 1-5th. Jim said that was the year he and Craig Salmonson hooked up for three events, Jim won the "Angler of the Year" title.
2003 was another great season for Jim where he fished eight events that saw him with six top 10 finishes. Jims best finish 1-1st, 1-2nd and 2- 5th. That year Jim fished every event with a different partner and learned more in one season than ever before. Jim believes that was the reason that led him to win his second NEOBA Angler of the Year title.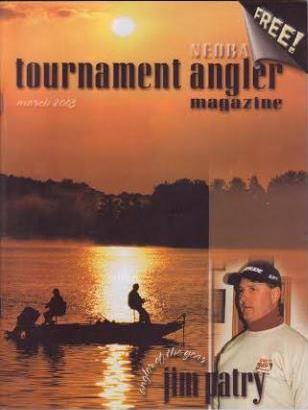 That year saw Jim team up with Craig Salmonson for a CFT ( the big league) event on Nipissing in which they had ninth-place finish. In 2004 Jim fished in four events with three top 10 finishes plus a Classic win. For a second time, Jim teamed up with Craig Salmonson and fished the CFT on Lake Nipissing where they placed second and won a big fish award.
In Jims' bass fishing career he has a total of 5- 1st, 10- 2nd,3- 3rd plus 12 top 10 finishes. He says that he did not do this on his own and would like to thank each and every angler he had fished with for helping him along.
In 2000, the TOP 50 Pike, was started by Denis Aubin and Jim Patry which seen two events held on Elk Lake and Vermillion Lake. In 2004 the Top 50 grew to four events plus Provincial Classic.
North Eastern Ontario Bass Association (NEOBA) had come to an end in 2004. Low participation numbers had forced host clubs to step out of the series due to poor economic times and the TOP 50 pike series was drawing a much higher attendance which another reason for NEOBA's demise according to Jim.
Jim pays thanks to Dave Lafontain and the hard-working crew at Temiskaming Bass Association for providing an opportunity to compete in a well-organized bass series in North Eastern Ontario. Jim sat on the board of directors of NEOBA for seven years and three of those years saw Jim as President.
NEOBA ran strong for 15 yrs. and is missed. Jim said it is hard to see it go, but the TOP 50 is keeping Jim very occupied
The TOP 50 pike series tournament trail is coming on strong with attendance numbers averaging 73 boats per event over the six to seven-event series. Many of the diehard bass anglers have made the transition. Jim was one of the co-creators of the TOP 50 pike series tournament trail in 2002.
Jim has also sat on the board of directors with the Chelmsford Fish and Game Association for 18 yrs., six of which he was president, seven as walleye and hatchery chair and five as tournament director. Co-created the United Walleye Clubs "UWC" with Rolly Frappier and Brain Kilby where he sat as president and vice president for six years.
Jim also edited Tournament Angler Magazine for 13 yrs. Jim said that he was very proud of his commitment and dedication to volunteering. Being involved with others with the same interest is fun and challenging in which he would never change. Over the years Jim says that he got to meet some great people and great anglers and that's what tournament angling brings.
Jim would also acknowledge Mike Shoults, Audie Greenwood for dedicating their many years to NEOBA and helping him in his fishing career. They were always fun to hang around with.
Jim would also like to thank Craig Salmonson for introducing him to the Northern Walleye Trail (NWT) and for being a good friend and fishing partner "however he still hasn't given me the secret to Mattagami walleye!" Jim has two top 10 best finishes a second and a fifth on Mattagami since joining.
Jim would like to send a big "Thank You" to Emerald Isle Marine, from Ennismore Ont., Brian Mayberry and staff for being there whenever they were needed. The present board of directors of the TOP 50 tournament trail for keeping the show on the road. To Chelmsford Fish and Game Association, "Thanks to all past and present directors and volunteers, keep up the good work."
Last, but the most important person is his wife, Lori, for 46 years of marriage and for allowing him to spend so much time away from home doing what he loves to do. Jim says he can still hear the ringing in his ears "what are you buying now?" Thanks, Lori.
Jim was born in Kirkland Lake, Ont. and at the young age of 66 he is still one of the top anglers that this angler and writer looks up to and for advice about the fishing industry. I thank Jim for taking the time to do this article with me, I know how busy he is and for paving the way for anglers in Northeastern Ontario the chance to fish in organized tournaments.
In my opinion, you deserve to be in the Canadian Fresh Water Hall Of Fame for everything you have done over the years.